Marsruudid
Saate luua marsruudi Movescountis või importida mõne muu teenusega loodud marsruudi.
Marsruudi lisamiseks toimige järgmiselt.
Minge aadressile www.movescount.com ja logige sisse.
Sünkroonige

Suunto Traverse

Movescountiga, kasutades SuuntoLinki ja kaasasolevat USB-kaablit.
Movescounti kaudu saab marsruute ka kustutada.
Navigating a route
You can navigate a route you have transferred to your Suunto Traverse from Movescount (see 3.20 Routes) or from a log in your logbook with GPS data. You get a preview of the route based on the route list or logbook selection.
If you are using the compass for the first time, you need to calibrate it (see Calibrating compass). After activating the compass, the watch will begin searching for a GPS signal. After the watch acquires a GPS signal, you can begin to navigate a route.
To navigate a route:
Press
to enter the start menu.
Scroll to

NAVIGATION

with and press .
Scroll to

Routes

or

NAVIGATION

and press to enter .
Scroll to the route you want to navigate with
or and press .
Press

Navigate

. All navigating is recorded. If you watch has more than one sport mode, you are prompted to select one.
to select
Select

Forwards

or

Backwards

to chose the direction you want to navigate (from the first waypoint or the last).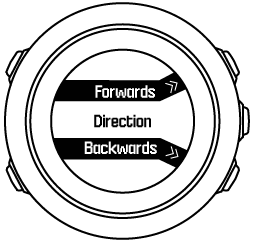 Start navigating. The watch informs you when you are approaching the beginning of the route.

The watch informs you when you have arrived at your destination.
Navigeerimise ajal
Vajutage navigeerimise ajal nuppu VIEW, et järgmisi vaateid kerida.
Täisteekonna kuva, mis näitab kogu marsruuti.
Teekonna sissesuumitud vaade: vaikimisi on sissesuumitud vaade mõõtkavas 100 m (0,1 miili); see on suurem, kui olete marsruudist kaugel.
Teekonna kuva
Täisteekonna kuva näitab järgmist teavet.
(1) Nool näitab teie asukohta ja liikumissuunda.
(2) Marsruudi algus ja lõpp.
(3) Lähim huvipakkuv koht ikoonina.
(4) Teekonna kuva mõõtkava.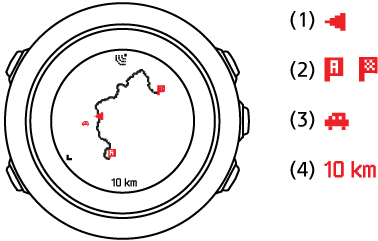 MÄRKUS:
Täisteekonna kuval jääb põhi alati ülespoole.
Kaardi suund
Saate muuta kaardi suunda suvandite menüüst valikust NAVIGATION (NAVIGEERIMINE) » Settings (Sätted) » Map (Kaart) » Orientation (Suund).
Heading up

(Kurss üleval): kuvab sissesuumitud kaarti, kurss üleval.

North up

(Põhi üleval): kuvab sissesuumitud kaarti, põhjasuund üleval.
Tõusu profiili kuva
Tõusu profiili kuva näitab järgmist teavet.
Järele jäänud tõus
Kõrguse profiili graafik reaalajas
Järele jäänud laskumine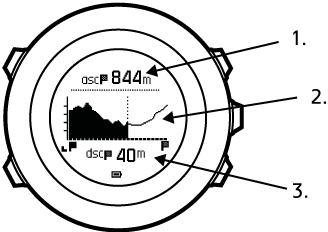 Kui kaldute teekonnast liiga kaugele kõrvale, ei uuendata profiili graafikut. Selle asemel kuvatakse graafiku all tekst Off route (Vale kurss). Täpsete tõusu arvutuste saamiseks peate õigele kursile naasma.