Have you tried Suunto's sport specific sport apps yet? Read on and find your new favorite running feature!
Suunto's sport apps are easy to use watch functionalities that enhance your experience with your Suunto watch with use case specific benefits. Sport apps are easy to use, too: Simply browse the selection in Suunto app's SuuntoPlus Store, select which ones you want to use on your watch and activate them before starting an exercise. 
Here are 10 popular sport apps for runners. Take a look – and take them for a run!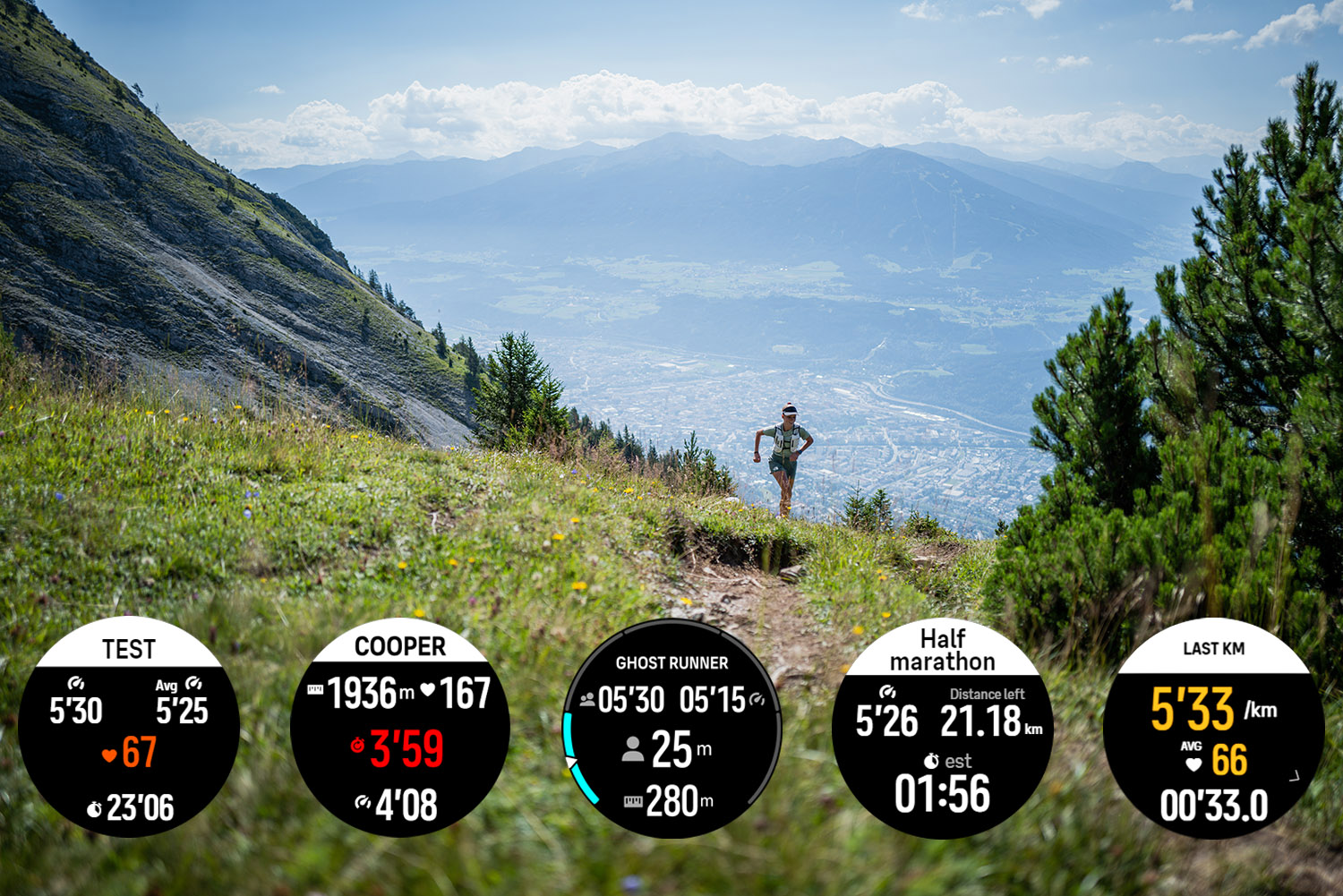 From left to right: Anaerobic threshold test, Cooper test, Ghost runner, Half marathon time estimator and Last km (or mile) SuuntoPlus sport apps. 
Measure your anaerobic threshold 
The threshold test sport app is used to estimate your anaerobic threshold pace and heart rate. This can then be used to set your training zones. In addition to finding the right intensity zones, this test helps you evaluate your progress.  
This test is quite demanding as it will require a 30-minute full effort run.  
Challenge yourself with the classic Cooper test
Cooper test, a 12-minute all-out effort is a classic! The distance you cover during the test correlates with your maximum effort in the middle distances and can therefore be used to estimate your VO2Max value. The test will also give an estimation of your 10 km and half marathon race results.  
Pace your race
Get a live estimate of your finishing time based on your pace so far. There are separate sport apps for marathon, half marathon, and most common ultra-distances.  
However, race time estimator is not only useful in pacing races: When preparing for a race, especially during harder tempo runs, it is motivating to see how this pace equals the potential race time. For example, if your pace is 05'08/km during a high paced training run, it would equal 1:48'00 duration over a half marathon distance.  
Pace your run
When trail running in a technical terrain the current pace can be changing so rapidly that it often is not very meaningful. The Last kilometer sport app gives you a live, rolling kilometer pace to follow.  
Chase a ghost runner
Catch the virtual ghost runner to practice your pacing or just for fun.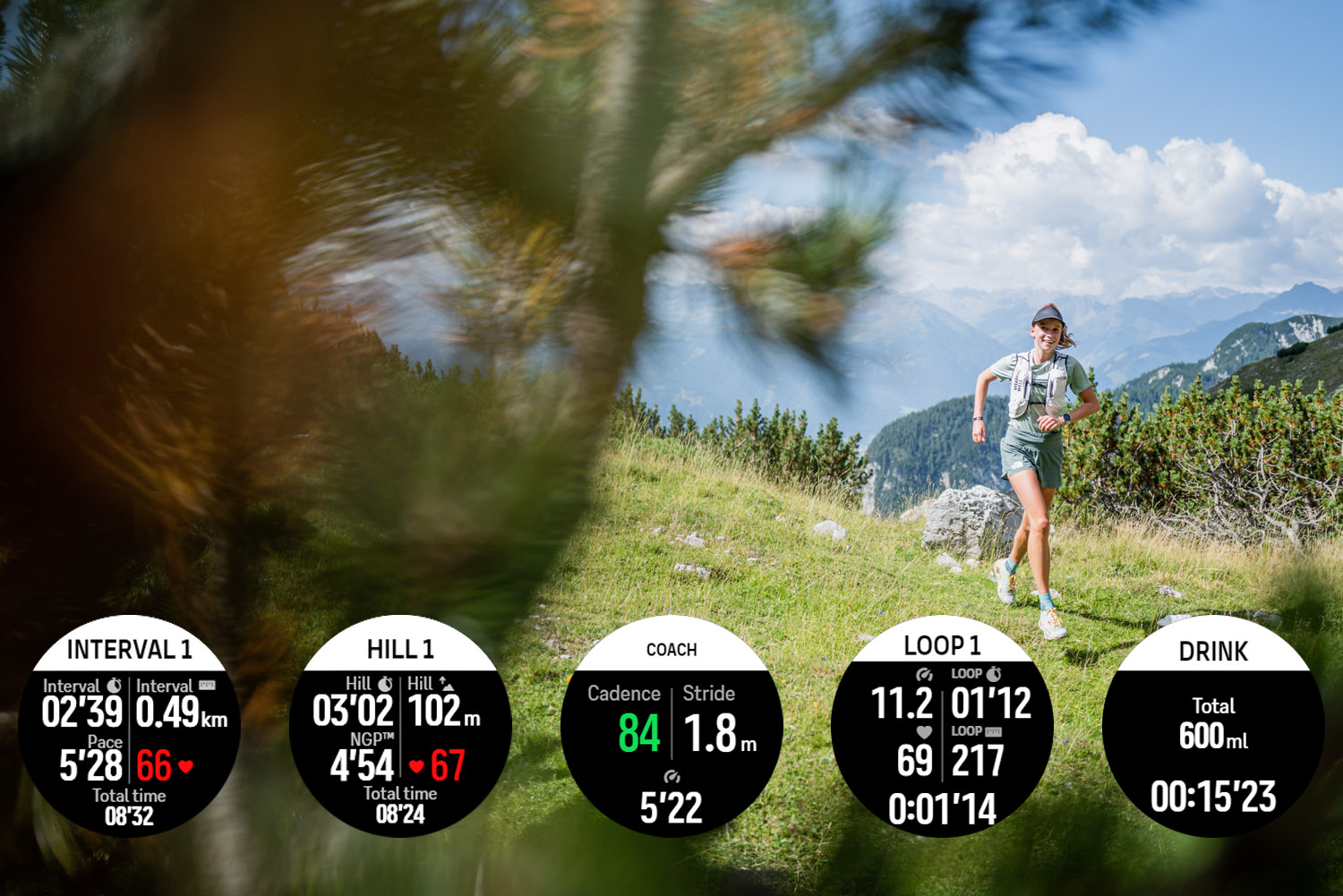 From left to right: Manual intervals, Manual intervals for hill repeats, Cadence Coach, Loop and Hydration alert SuuntoPlus sport apps.
Intervals made easy
Manual intervals sport app helps you control your interval sets without pre-planning: During recovery it will show you the results of each rep and during the effort it will show you values such as the number of intervals you have done, the interval duration, distance, and pace & heartrate. After your workout you can see each interval in Suunto app's lap table.  
Data for your hill repeats
A separate Manual intervals sport app is available for hill repeats. It works like the regular Manual intervals sport app (see above), but this one highlights data that is relevant especially when running uphill. This does not require pre-planning, so you are in control during the hill repeat session!  
Work on your running technique
The Cadence coach will show you live cadence and stride length. This tool helps you monitor your cadence and follow the changes while you work on your running technique or change your running style.  
Get location-based laps automatically
Automatic location-based lap insights help you analyze the stats for each loop. This is an excellent feature for repeatedly running the same loop. Loops can be viewed afterwards in Suunto app.  
Stay hydrated
The drink reminder sport app helps you stay hydrated during long workouts and races. You will get a drink reminder every 10, 15 or 20 minutes depending on the sport app you have selected. You will also be able to follow the total volume consumed. Remember, hydration needs are individual and depend on the exercise intensity and current conditions.  
Images: Philipp Reiter  Athlete: Ida-Sophie Hegemann
Watch and learn more about SuuntoPlus Store
READ MORE