Navigeren met GPS
Suunto Ambit3 Run gebruikt GPS (Global Positioning System) om uw huidige locatie te bepalen. GPS bestaat uit een verzameling satellieten die op 20.000 km hoogte een baan om de aarde afleggen met een snelheid van 4 km per seconde.
De ingebouwde GPS-ontvanger in Suunto Ambit3 Run is geoptimaliseerd voor gebruik vanaf de pols en ontvangt gegevens onder een zeer grote hoek.
GPS-signaal verkrijgen
Suunto Ambit3 Run schakelt GPS automatisch in als u een sportmodus selecteert met de GPS-functies, uw locatie bepaalt of begint te navigeren.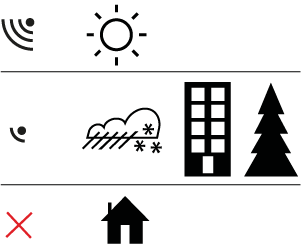 OPMERKING:
Als u GPS de eerste keer inschakelt of GPS lange tijd niet hebt gebruikt, kan het langer dan normaal duren om een GPS-peiling te verkrijgen. Een volgende keer dat u GPS inschakelt, verkrijgt het apparaat sneller een peiling.
TIP:
U kunt de starttijd van de GPS minimaliseren door het horloge stabiel en met de GPS omhoog vast te houden in open terrein, waar u onbelemmerd zicht naar boven hebt.
TIP:
Synchroniseer uw Suunto Ambit3 Run regelmatig met Movescount om de laatste baangegevens per satelliet te ontvangen. Dit vermindert de tijd die nodig is om de GPS-peiling op te halen en verbetert de nauwkeurigheid.
Oplossen van problemen: Geen GPS-signaal
U krijgt een optimaal signaal door het GPS-gedeelte van het horloge naar boven te richten. U ontvangt het beste signaal in open terrein, waar u onbelemmerd zicht naar boven hebt.
De GPS-ontvanger werkt meestal ook goed in een tent of andere ruimte met een dun dak. Objecten, gebouwen, dichte begroeiing en bewolking kunnen de ontvangstkwaliteit van het GPS-signaal echter nadelig beïnvloeden.
Het GPS-signaal dringt niet door massieve constructies of water heen. Het heeft dan bijvoorbeeld ook geen zin GPS in te schakelen in gebouwen, kelders, grotten of onder water.
GPS-rasters en positie formaten
Rasters zijn lijnen op een kaart die het coördinatensysteem bepalen dat op de kaart wordt gebruikt.
Het positieformaat is de manier waarop de positie van de GPS-ontvanger op het horloge wordt aangegeven. Alle formaten geven dezelfde locatie aan. Ze doen dat echter op verschillende manieren. U kunt het formaat van de positie wijzigen in de horloge-instellingen onder Algemeen » Formaat » Positie formaat.
U kunt het formaat selecteren uit de volgende rasters:
breedte/lengte is het meest gangbare raster en kent drie formaten:

WGS84 Hd.d°

WGS84 Hd°m.m'

WGS84 Hd°m.m'

UTM

(Universal Transverse Mercator) toont een tweedimensionale horizontale positie weergave.

MGRS

(Military Grid Reference System) is een uitbreiding van UTM en bestaat uit een rasterzone-aanduiding, identificatie in een gebied van100.000 vierkante meter en een numerieke locatie.
Suunto Ambit3 Run ondersteunt ook de volgende lokale rasters:
British (BNG)

Finnish (ETRS-TM35FIN)

Finnish (KKJ)

Irish (IG)

Swedish (RT90)

Swiss (CH1903)

UTM NAD27 Alaska

UTM NAD27 Alaska

UTM NAD83

NZTM2000

(New Zealand)
OPMERKING:
Sommige rasters kunnen niet worden gebruikt in gebieden ten noorden van 84° noorderbreedte en ten zuiden van 80° zuiderbreedte, of buiten de landen waarvoor ze bedoeld zijn.
GPS-nauwkeurigheid en energiebesparing
Wanneer u sportmodi aanpast, kunt u het interval van GPS-peilingen definiëren met behulp van de instelling voor GPS-nauwkeurigheid in Movescount. Hoe korter het interval, des te beter de nauwkeurigheid tijdens de training.
Door het interval te verhogen en de nauwkeurigheid te verlagen kunt u de levensduur van de batterij verlengen.
De opties voor GPS-nauwkeurigheid zijn:
Best: ~ peilingsinterval van 1 seconde, hoogste stroomverbruik
Goed: ~ peilingsinterval van 5 seconden, gemiddeld stroomverbruik
OK: ~ peilingsinterval van 60 seconden, laagste stroomverbruik
Uit: geen GPS-peiling