POD's en HR-sensoren
Koppel uw Suunto Ambit3 Run met een Bluetooth® Smart compatibel voetstuk om tijdens uw training extra informatie te ontvangen.
De Suunto Smart Sensor die bij uw Suunto Ambit3 Run geleverd wordt (optioneel) is reeds gekoppeld. Het koppelen is alleen nodig als u een andere Bluetooth Smart-compatibele hartslagsensor wilt koppelen.
Koppelen van POD's en HR-sensoren
De procedures voor het koppelen kunnen per POD of type hartslagsensor (HR) verschillen. Lees a.u.b. eerst de gebruikersdocumentatie voor het instrument dat u met de Suunto Ambit3 Run wilt koppelen, voordat u verdergaat.
Hoe een POD of hartslagsensor te koppelen:
Activeer de POD of hartslagsensor: Als u een Suunto Smart Sensor wilt koppelen, zie Suunto Smart Sensor omdoen.
Houd
ingedrukt om het keuzemenu te openen.
Blader naar

Pair

met en selecteer met .
Blader door de opties met
en en druk op om een POD of hartslagsensor te kiezen voor het koppelen.
Houd uw

Suunto Ambit3 Run

dicht bij het instrument waar u mee wilt koppelen en wacht tot de

Suunto Ambit3 Run

meldt dat dit succesvol is verlopen. Als het koppelen niet lukt, drukt u op om het opnieuw te proberen of op om terug te keren naar de koppelinstellingen.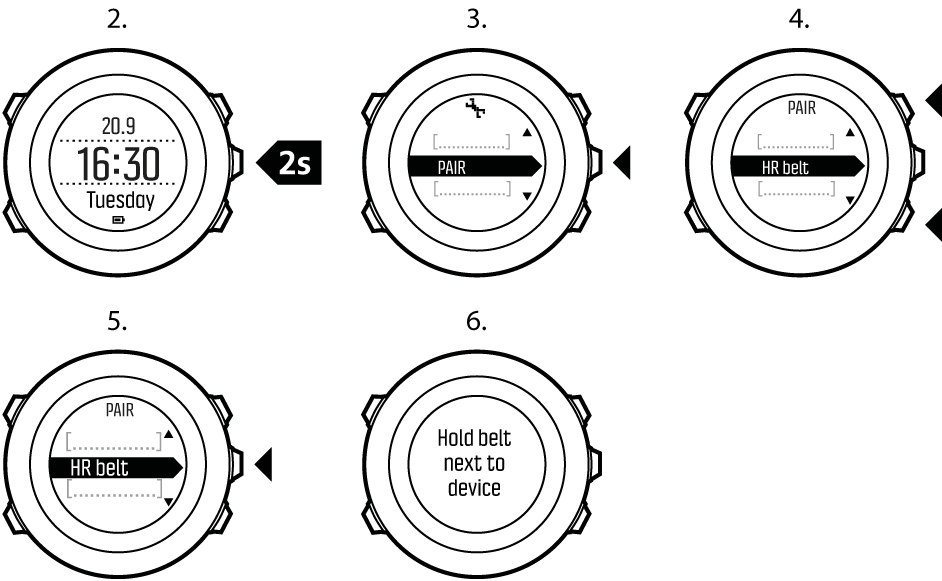 Foot POD gebruiken
Als u een foot POD gebruikt, wordt de POD automatisch, met korte intervallen, gekalibreerd door de GPS tijdens de training. Echter, de foot POD zal altijd de bron van snelheid en afstand zijn als deze wordt gekoppeld en actief is voor de desbetreffende sportmodus.
De Foot Pod kalibratie is altijd standaard ingeschakeld. Het uitschakelen kan worden gedaan in het optiemenu van de sportmodus, met Activeren, als de Foot POD is gekoppeld en wordt gebruikt voor de geselecteerde sportmodus.
Voor nog accuratere metingen van snelheid en afstand, kunt u de foot POD ook handmatig kalibreren. Voer de kalibratie uit op een parcours dat is geijkt, bijvoorbeeld een hardloopbaan van 400 meter.
Hoe de Foot POD te kalibreren met Suunto Ambit3 Run:
Bevestig de Foot POD aan uw schoen. Voor meer informatie leest u de gebruikershandleiding voor de foot POD die u gebruikt.
Kies een sportmodus (bijvoorbeeld

Hardlopen

) in het startmenu.
Begin op uw gebruikelijke tempo te rennen. Op het moment dat u over de startstreep gaat, drukt u op
om het vastleggen te starten.
Ren een afstand van 800-1000 meter (bijvoorbeeld 2 rondjes op een 400 meter baan) op uw gebruikelijke tempo.
Druk op
zodra u over de finish gaat om het vastleggen te pauzeren.
Druk op
om het vastleggen te stoppen. Nadat u de training hebt gestopt, slaat u het logboek op met . Als u het logboek niet wilt opslaan, drukt u op . Blader met door de overzichten totdat u bij de afstandsoverzicht bent. Wijzig indien nodig met behulp van en de afstand die op het scherm wordt weergegeven in de werkelijk gelopen afstand. Bevestig met .
Bevestig de kalibratie van de POD door op
te drukken. Uw Foot POD is nu gekalibreerd.
OPMERKING:
Als u de afstand in het afstandsoverzicht niet kunt wijzigen, was mogelijk de verbinding met de Foot POD tijdens deze kalibratietrainingrondes niet stabiel. Controleer dat de Foot POD conform de instructies correct is verbonden en probeer het opnieuw.
Als u zonder een Foot POD hardloopt, kunt u nog steeds de cadans via uw pols meten. De loopcadans wordt via de pols gemeten met FusedSpeed (zie FusedSpeed) en is altijd ingeschakeld voor specifieke sportmodi, zoals hardlopen, trail hardlopen, loopband, oriëntatie en veldlopen.
Als een Foot POD wordt gevonden aan het begin van een training, dan wordt de loopcadans die via de pols wordt gemeten overschreven door de Foot POD cadans.