Servicemenu
Om naar het servicemenu te gaan, houdt u Back Lap en Start Stop tegelijkertijd ingedrukt totdat het horloge het servicemenu opent.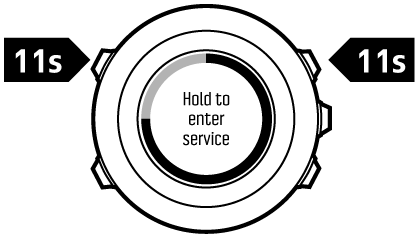 Het servicemenu omvat de volgende items:
Info

:

Air pressure

: toont de huidige absolute luchtdruk en temperatuur.

BLE

: toont de huidige Bluetooth Smart-versie

Version

: toont de huidige software- en hardwareversie

Test

:

LCD test

: hiermee kunt u testen of het lcd-scherm goed werkt

Vibration test

: hiermee kunt u testen of de trilsignalen goed werken

Action

:

Power off

: hiermee brengt u het horloge in een diepe slaapstand

GPS reset

: hiermee kunt u de gps resetten

Clear data

: kalibratie hersteltest wissen en klimgeschiedenis verwijderen
OPMERKING:
Power off is een staat met laag energieverbruik. Sluit de USB-kabel (met voedingsbron) aan om het horloge te activeren. De initiële installatiewizard start. Alle instellingen behalve tijd en datum worden behouden. U moet deze alleen maar bevestigen m.b.v. de opstartwizard.
OPMERKING:
Het horloge schakelt over naar energiebesparende modus wanneer het gedurende 10 minuten niet wordt bewogen. Het horloge wordt opnieuw geactiveerd als het bewogen wordt.
OPMERKING:
De inhoud van het servicemenu kan worden gewijzigd zonder voorafgaande kennisgeving tijdens updates.
Gps resetten
In het geval dat de gps-eenheid geen signaal kan vinden, kunt u de gps-gegevens resetten in het servicemenu.
Om de gps te resetten:
In het servicemenu bladert u naar

Action

met en krijgt u toegang met .
Druk om

GPS reset

en krijg toegang met
om naar beneden te scrollen naar
Druk op
om het resetten van de gps te bevestigen of druk op om te annuleren.
OPMERKING:
Het resetten van de gps reset de gps-gegevens, kompaskalibratiewaarden en hersteltijd. Bewaarde logs worden niet verwijderd.