Maximize battery life in daily use
The features, apps and watch faces you use, and the way you use them, all affect how long your battery will last. Also, the more you interact with your watch – check and scroll through your notifications, browse maps and use features that require Internet connection such as asking your Google Assistant for help – the more power is consumed.
To maximize the battery life of your watch in daily use, try the solutions below.
Use Suunto's watch faces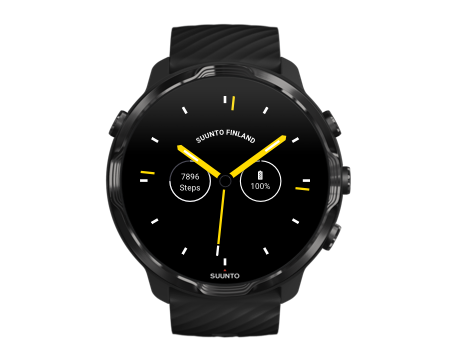 All watch faces designed by Suunto are power optimized to show time in a low-power mode without waking up the display and activating your watch. Keep in mind that other watch faces might not be optimized the same way.
If you recently added a new watch face and notice that your battery is draining faster than normal, try uninstalling that watch face.
Change your watch face
Delete a watch face
Use default settings for Display and Gestures
By default, the display and gestures to interact with your Suunto 7 are set up to use a minimum amount of power in daily use. For the best experience, use default settings with Suunto's power optimized watch faces.
Keep Power saver tilt on
With Power saver tilt, you can turn your wrist to check the time without activating your watch.
Adjust gestures
NOTE:
You need to use a power optimized watch face to use Power saver tilt.
Keep Tilt-to-wake off
If you turn Tilt-to-wake on, the display wakes up and activates your watch every time you turn your wrist. For longer battery life, press the Power button or use touch to wake up the display. Adjust display settings

Keep Always-on screen turned off
Let the screen turn off when you are not using your watch to save power.
Adjust display settings
Use Battery Saver mode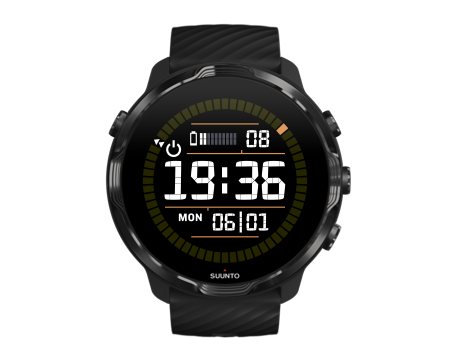 When your watch's battery gets low or you are, for instance traveling, you can turn Battery Saver on to use your watch for longer. When Battery Saver is turned on, your Suunto 7 works just like a traditional watch – you can check the time and date, and see an estimation of remaining battery level.
If you turn Battery Saver on with a full battery, you can use Suunto 7 as a traditional watch for up to 40 days.
NOTE:
Battery Saver turns on automatically when the battery is getting critically low.
Turn on Battery Saver
While on the watch face, swipe down from the top of your screen.
Tap Battery Saver.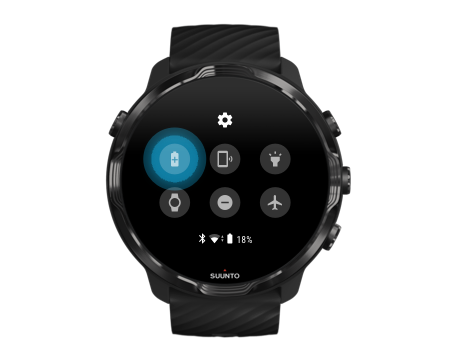 When Battery Saver is on, check the time by pressing the Power button.
Restart your watch to turn Battery Saver off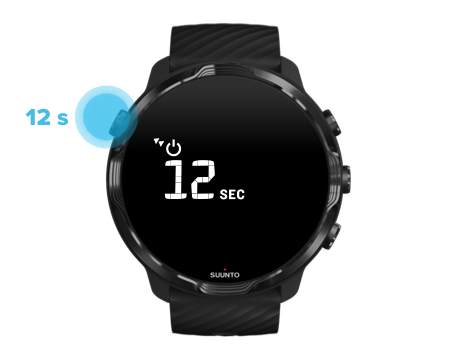 Keep the Power button pressed for 12 seconds to restart your watch.
Attach your watch to a charger and your watch will automatically restart.
Turn off notifications you don't want on your watch
Turning less important notifications off will reduce unnecessary interaction with your watch – you can stay focused and save battery at the same time.
Select which notifications show on your watch
Remove apps
If you recently installed an app and notice that your battery is draining faster than normal, try uninstalling that app. You can also remove apps that you don't use to avoid any unnecessary data connections to your phone or the Internet.
Turn the Airplane mode on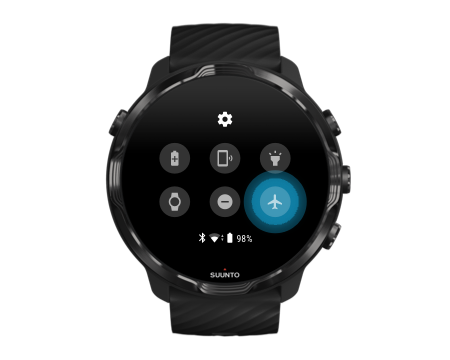 When your watch is on, even with the screen off, it is still searching for and maintaining data connections. When you don't need to be connected, you can save power by turning the connections to your phone and the Internet off using the Airplane mode.
While on the watch face, swipe down from the top of the screen.
Tap to turn Airplane mode on.
What happens when you take off your watch
After 30 minutes of inactivity, your watch will recognize that it's not on your wrist and then switch to a low-power mode.