Follow your heart rate with Suunto 7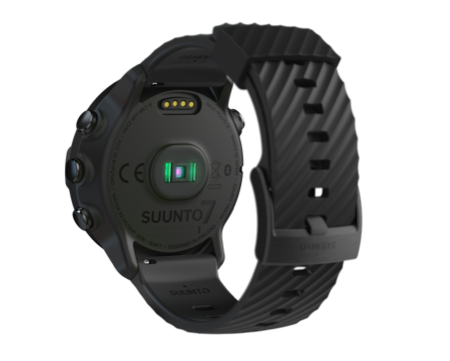 Suunto 7 uses wrist heart rate (WHR) technology, also known as optical heart rate, which measures heart rate via LEDs to track blood flow in your wrist. This means that you can see your heart rate data during your exercise or in daily use without a chest heart rate strap.
Factors that affect wrist heart rate measurements
How to wear your watch to improve HR measurements
Heart rate during exercise
Daily heart rate
NOTE:
Suunto Wear app does not support using an external heart rate belt.
Factors that affect wrist heart rate measurements
The watch must be worn directly against your skin. No clothing, however thin, can be between the sensor and your skin.
The watch may need to be higher on your arm compared to where watches are normally worn. The sensor reads blood flow through tissue, so the more tissue it can read, the better.
Arm movements and flexing muscles, such as gripping a tennis racket, can change the accuracy of sensor readings.
When your heart rate is low, the sensor may not be able to provide stable readings. A short warm-up of a few minutes before you start the recording helps.
Skin pigmentation and tattoos block light and prevent reliable readings from the optical sensor.
The optical sensor may not provide accurate heart rate readings for swimming activities.
How to wear your watch to improve HR measurements
The accuracy of optical HR measurement is influenced by a number of factors and it can differ depending on the person. One of the factors that makes the biggest difference is how you wear your watch. The right fit can help improve the accuracy of your heart rate readings. Start with the following tips, then test and improve the fit of your watch until you find your personal optimal spot.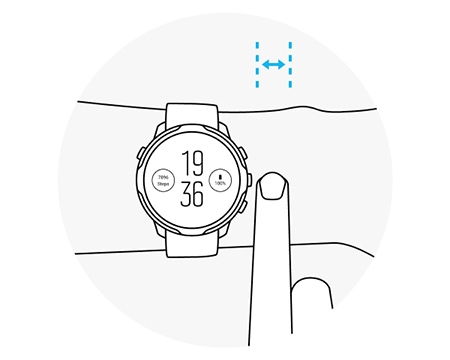 During daily use

Wear your Suunto watch at least 1 finger above your wrist bone and make sure the watch is snug on your wrist. Your watch should always maintain contact with your skin so that you can't see the light shining from the sensor.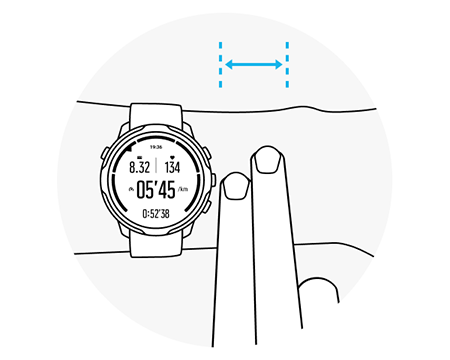 During exercise

Test the fit – the key is to wear the watch as high up on your wrist as possible, and to prevent it from sliding down during exercise. A good indicator is to wear it about 2 fingers above your wrist bone. Again, make sure you wear the watch tight and close against the skin, however not tight enough to cut off blood circulation.
Too loose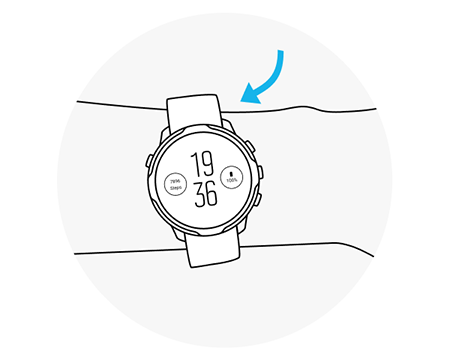 Just right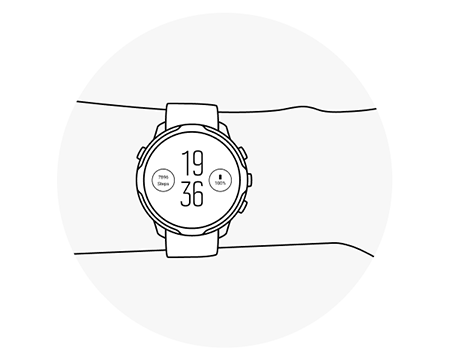 WARNING:
The optical heart rate feature may not be accurate for every user during every activity. Optical heart rate may also be affected by an individual's unique anatomy and skin pigmentation. Your actual heart rate may be higher or lower than the optical sensor reading.
WARNING:
Only for recreational use; the optical heart rate feature is not for medical use.
WARNING:
Always consult a doctor before beginning a training program. Overexertion may cause serious injury.
WARNING:
Allergic reaction or skin irritations may occur when products are in contact with skin, even though our products comply with industry standards. In such event, stop use immediately and consult a doctor.