Bruke kompass
Når du er i Compass-modus, ser du to bevegelige segmenter i kanten av displayet. Disse peker mot nord. Denne tynne streken ved klokken 12 viser deg kursen og fungerer som en kompassretningspil. Kursens numeriske verdi vises i midten av displayet.
I Compass-modus har du tilgang til følgende visninger med [View]:
Klokkeslett: viser gjeldende klokkeslett
Kardinaler: viser gjeldende kurs i kardinalretninger
Peiling-sporing: viser retningen mellom kursen og den innstilte peilingen.
Kompasset vil sette seg selv i strømsparingsmodus etter et minutt hvis ingen taster trykkes. Aktivere den på nytt med Start Stop.
Du kan bruke kompasset på to måter: Du kan bruke berøringsringen eller peiling-sporing.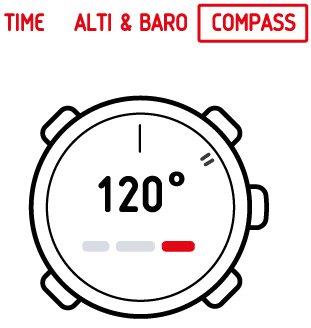 Bruke peiling-sporing
I peiling-sporing kan du låse en peiling (retning), så vil ditt Suunto Core-kompass føre deg langs den.
Slik bruker du peiling-sporing:
La kompassretningspilen peke i retningen du vil bevege deg, og trykk på
. Peilingen er nå låst. Gjeldende kurs vises i midten av displayet, og den vil endres i henhold til bevegelsene dine.
Pilene på øverste rad i displayet peker i retningen du må ta for å holde deg på ønsket peiling. . -symbolet bekrefter at du sikter i riktig retning.
MERK:
Knappen - Light aktiverer også bakgrunnslyset.
Du er på tur og har akkurat klatret opp en bratt bakke. Når du ser ut over dalen nedenfor, oppdager du en hytte på en annen bakketopp. Du bestemmer deg for å gå gjennom dalen til hytta. Du lar retningspilen på ditt -kompass peke mot hytta og låser peilingen. Så snart du er i dalen, viser pilene på displayets øverste rad hvor du går. Fordi kompasset er aktivt i bare 40 sekunder om gangen av hensyn til bevaring av batterilevetid, må du av og til starte kompasset på nytt for å sjekke kursen. Følg med på det så vil du snart være framme.