Progress
The progress widget provides you with data that helps you to increase your training load over a longer period of time, whether it is the training frequency, duration or intensity.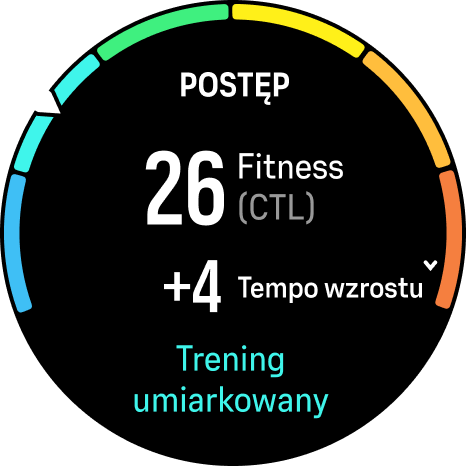 Every training session gets a Training Stress Score (TSS) (based on the duration and the intensity) and this value is the base for calculating the training load for both short and long-time averages. From this TSS value, your watch can calculate your fitness level (defined as VO₂max) and CTL (Chronic Training Load).
The ramp rate is a metric that monitors your rate of increase or decrease in your fitness over a set time.
Your aerobic fitness level is defined as VO₂max (maximal oxygen consumption), a widely recognized measure of aerobic endurance capacity. In other words, VO₂max shows how well your body can use oxygen. The higher your VO₂max, the better you can use oxygen.
The estimation of your fitness level is based on detecting your heart rate response during each recorded running or walking workout. To get your fitness level estimated, record a run or walk with a duration for at least 15 minutes while wearing your Suunto Vertical.
The widget also views your estimated fitness age. Fitness age is a metric value that reinterprets your VO₂max value in terms of age.
NOTE:
Improvement of VO₂max is highly individual and it depends on factors such as age, gender, genetics and training background. If you are already very fit, increasing your fitness level will be slower. If you are just starting to exercise regularly, you may see a quick increase in fitness.
TIP:
Please refer to www.suunto.com or Suunto app to learn more about Suunto's training load analysis concept.