Weather indicators
In addition to the barometer graph (see Using Barometer profile), Suunto Ambit2 has two weather indicators: weather trend and storm alarm.
The weather trend indicator is displayed as a view in Time mode, providing you a quick way to check weather changes.

The weather trend indicator is comprised of two lines forming an arrow. Each line represents a 3-hour period. A change in barometric pressure greater than 2 hPa / 0.59 inHg over three hours triggers a change the direction of the arrow. For example:
| | |
| --- | --- |
| | pressure dropping heavily over the last six hours |
| | pressure was steady, but rising heavily over the last three hours |
| | pressure was rising heavily, but dropping heavily over the last three hours |
Storm alarm
A significant drop in barometric pressure typically means a storm is coming and you should take cover. When the storm alarm is active, Suunto Ambit2sounds an alarm and flashes a storm symbol when the pressure drops 4 hPa / 0.12 inHg or more during a 3-hour period.
NOTE:
The storm alarm does not work if you have altimeter profile activated. See Setting profiles.
To activate Storm alarm:
Keep
pressed to enter the options menu.
Scroll to

Alti-baro

with and enter with .
Press

Storm alarm

.
to select
Set the storm alarm

On

or

Off

with with or and accept with .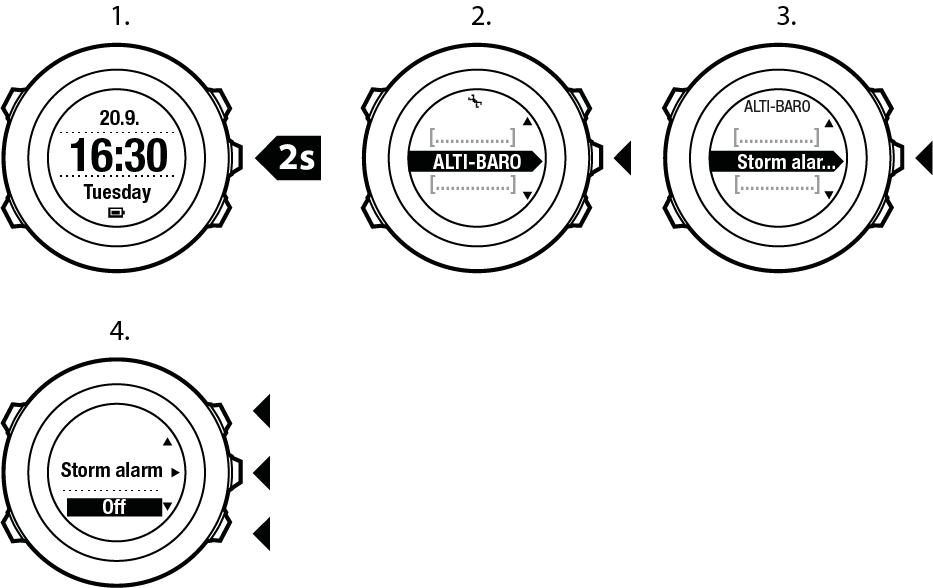 When a storm alarm occurs, pressing any button ends the alarm. If no button is pressed, the alarm repeats once after five minutes. The storm symbol remains on the display until the weather conditions stabilize (pressure drop slows down).
A special lap (called 'storm alarm') is generated when a storm alarm occurs while recording an exercise.
TIP:
You can also activate or deactivate the storm alarm through the options menu in a sport mode.