Servicemenu
Om het servicemenu te openen, houdt u Back Lap en Start Stop tegelijkertijd ingedrukt totdat het servicemenu wordt geopend.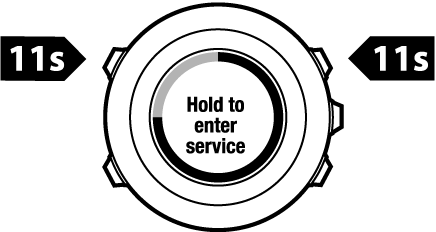 Het servicemenu bevat de volgende items:
Info

:

Version

: toont de huidige software- en hardwareversie van uw

Suunto Ambit2 S

.

Test

:

LCD test

: hiermee kunt u testen of het LCD-scherm juist werkt.

Action

:

Power off

: laat het horloge in een diepe slaapstand zetten.

GPS reset

: hiermee reset u de GPS.
OPMERKING:
Power off is een staat van laag energieverbruik. Sluit de USB kabel aan (met energiebron) om het horloge te wekken. De initiële set-up wizard start op. Echter, eerder ingevoerde waarden worden niet gewist, dus u hoeft slechts elke stap te bevestigen.
OPMERKING:
Het horloge schakelt over op de energiebesparende modus als het gedurende 10 minuten niet wordt bewogen. Het wordt opnieuw actief als het wordt bewogen.
OPMERKING:
De inhoud van het servicemenu kan tijdens updates zonder aankondiging worden gewijzigd.
GPS wordt gereset
Als de GPS geen signaal kan vinden, kunt u de GPS-gegevens resetten in het servicemenu.
Om de GPS te resetten, gaat u als volgt te werk:
Blader in het servicemenu naar

Actie

met en open deze met .
Druk op

GPS reset

te bladeren en open deze met .
om naar
Druk op
om de GPS reset te bevestigen of druk op om te annuleren.
OPMERKING:
Als u GPS reset, worden de GPS-gegevens, de waarden voor de kompaskalibratie en de hersteltijd gereset. Uw opgenomen logboeken worden echter niet verwijderd.