POD of hartslagband koppelen
Koppel uw Suunto Ambit2 S met optionele Suunto POD's (Bike POD, Power POD, hartslagband, Foot POD of Cadence POD) en ANT+ POD's om tijdens de training aanvullende informatie te ontvangen over snelheid, afstand, vermogen en cadans. Ga naar www.thisisant.com/directory voor een lijst van compatibele ANT+ producten.
U kunt maximaal zes POD's tegelijkertijd koppelen:
drie Bike POD's (er kan slechts één Bike POD tegelijk worden gebruikt)
één Cadence POD
één Foot POD
één Power POD
Als u POD's koppelt, onthoudt de Suunto Ambit2 S de laatst gekoppelde POD van elk POD-type.
De hartslagband en/of POD die meegeleverd werden met uw Suunto Ambit2 S is/zijn reeds gekoppeld. Koppelen is alleen nodig als u een nieuwe hartslagband of POD wilt gebruiken met het apparaat.
Hoe een POD of hartslagband te koppelen:
Activeer de POD of hartslagband:
Bike POD: draai het wiel waarop de Bike POD is gemonteerd.
Power POD: draai de trapcrank of het wiel waarop de Bike POD is gemonteerd.
Hartslagband: bevochtig de contactgebieden en doe de band om.
Cadans-POD: draai het pedaal waarop de Cadence POD is gemonteerd.
Foot POD: kantel de Foot POD 90 graden.
Houd
ingedrukt om het optiemenu te openen.
Blader naar

Koppelen

met en open deze met .
Blader met

Bike POD

,

Power POD

,

Hartslagband

,

Foot POD

en

Cadence POD

.
en door de accessoireopties
Druk op
om een POD of hartslagband te selecteren en het koppelen te starten.
Houd uw

Suunto Ambit2 S

in de buurt van de POD/band (<30 cm) en wacht totdat het apparaat aangeeft dat de POD/band is gekoppeld. Als het koppelen niet lukt, drukt u op om het opnieuw te proberen of op om terug te keren naar de instellingen voor koppelen.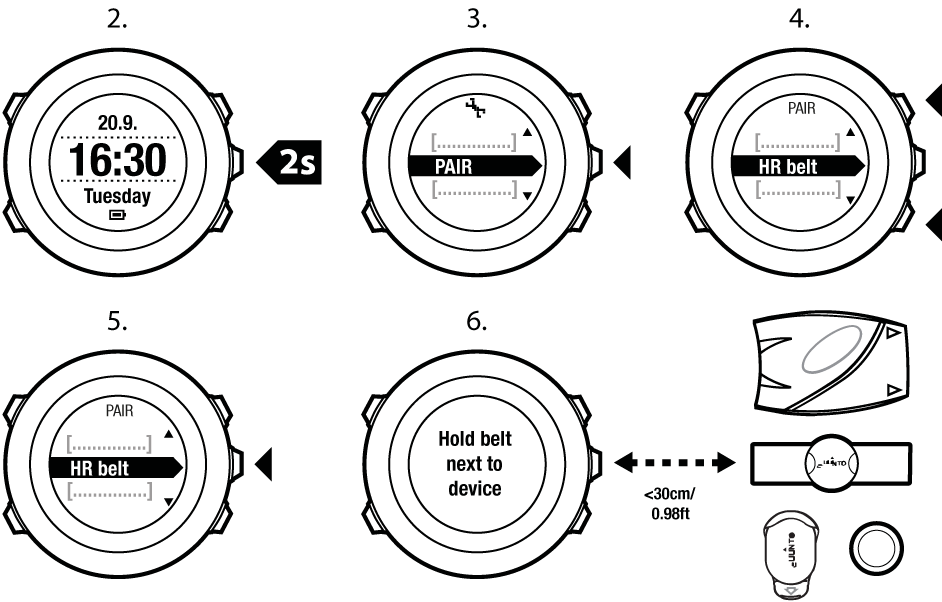 OPMERKING:
U kunt met uw Suunto Ambit2 S verschillende soorten Power POD's koppelen. Raadpleeg de handleiding van de Power POD voor meer informatie.
TIP:
U kunt de hartslagband ook activeren door beide elektrodecontactgebieden te bevochtigen en erop te drukken.
Oplossen van problemen: Koppelen van de hartslagband lukt niet
Als het koppelen van de hartslagband mislukt, probeert u het volgende:
Controleer of de band is aangesloten op de module.
Controleer of u de band correct draagt (zie Hartslagband omdoen).
Controleer of de contactgebieden rond de elektroden van de hartslagband vochtig zijn.
Raadpleeg de POD-handleiding voor meer informatie over het koppelen van POD's.