Power POD's en helling kalibreren
Suunto Ambit2 S kalibreert automatisch uw power POD wanneer de POD wordt gedetecteerd. U kunt de power POD ook op elk gewenst moment tijdens een training kalibreren.
Hoe een power POD handmatig te kalibreren:
Terwijl u in een sportmodus bent, houdt u
ingedrukt om het optiemenu te openen.
Stop met fietsen en haal uw voeten van de pedalen.
Scroll met

Power POD kalibreren

en bevestig met .
naar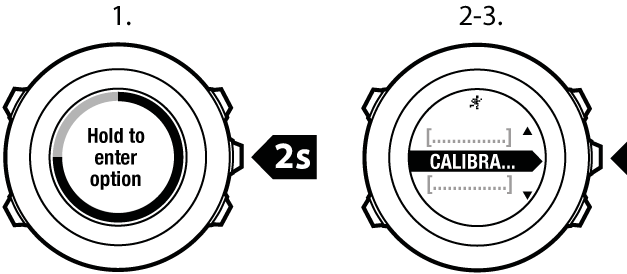 Suunto Ambit2 S start de kalibratie van de POD en geeft aan of de kalibratie is geslaagd of mislukt. De onderste rij van het scherm bevat de huidige frequentie die wordt gebruikt voor de power POD. De vorige frequentie wordt tussen haakjes weergegeven.

Als uw power POD een functie Auto zero bevat, kunt u deze in-/uitschakelen via uw Suunto Ambit2 S.
Hoe Auto zero in/uit te schakelen:
Druk op
nadat de kalibratie is voltooid.
Stel Auto zero met

Aan/Uit

en accepteer dit met .
in op
Wacht totdat de instelling is voltooid.
Herhaal de procedure als de instelling mislukt of de verbinding met de power POD is verbroken

U kunt de helling kalibreren voor power POD's die gebruikmaken van CTF (Crank Torque Frequency).
Hoe de helling te kalibreren:
Druk op
nadat de power POD is gekalibreerd.
Stel de juiste waarde in volgens de handleiding van uw power POD met
en accepteer dit met .
Wacht totdat de instelling is voltooid.
Herhaal de procedure als de instelling mislukt of de verbinding met de power POD is verbroken