Knoppen gebruiken
Suunto Ambit2 S beschikt over vijf knoppen waarmee u alle functies kunt openen.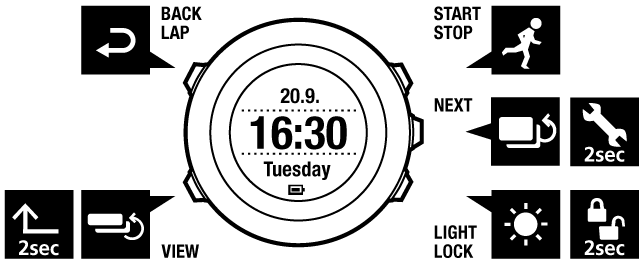 Start Stop:
het startmenu openen
pauzeren of hervatten van training of timer
ingedrukt houden om een training te stoppen en op te slaan
een waarde verhogen of omhoog gaan in de instellingen
Next:
wisselen tussen schermen
ingedrukt houden om het optiemenu te openen of af te sluiten
ingedrukt houden om het optiemenu te openen of af te sluiten in sportmodi
een instelling accepteren
Light Lock:
de verlichting activeren
ingedrukt houden om de knoppen te vergrendelen of ontgrendelen
een waarde verlagen of omlaag gaan in de instellingen
View:
schermen wisselen in

tijd

modus en tijdens training
houd ingedrukt om het scherm te schakelen tussen licht en donker
houd ingedrukt voor toegang tot contextgevoelige snelkoppelingen (zie onder)
Back Lap:
terugkeren naar de vorige stap
een ronde toevoegen tijdens de training
TIP:
U kunt waarden sneller wijzigen door Start Stop of Light Lock ingedrukt te houden totdat de waarden sneller gaan lopen.
Snelkoppelingen definiëren
Wanneer u View ingedrukt houdt in de modus Time, schakelt u het scherm standaard tussen licht en donker. Deze druk op de knop kan in plaats daarvan worden gewijzigd in toegang tot een specifieke menuoptie.
Een snelkoppeling definiëren:
Houd
ingedrukt om het optiemenu te openen.
Blader naar het menu-item waar u een snelkoppeling naartoe wilt maken.
Houd
ingedrukt om een snelkoppeling te maken.
OPMERKING:
Snelkoppelingen kunnen worden gemaakt naar alle mogelijke menu-items, zoals individuele logs.
Door het ingedrukt houden van View in andere modi, worden vooraf gedefinieerde snelkoppelingen geopend. Wanneer het kompas is geactiveerd, kunt u bijvoorbeeld de kompasinstellingen openen door View ingedrukt te houden.