Hatdloopprestatieniveau
Hardloopprestatieniveau is een gecombineerde afmeting van uw fysieke fitness en uw hardloopefficiëntie, mogelijk gemaakt door Firstbeat.
Fysieke fitness
Hardloopprestatieniveau maakt gebruikt van een schatting van uw VO2max, een globale standaard voor aerobic fitness en duursportprestaties. VO2max is een indicatie van de maximale capaciteit van het lichaam om zuurstof te transporteren en gebruiken.
VO2max wordt beïnvloed door de conditie van uw hart, longen, bloedsomloop en het vermogen van uw spieren om zuurstof tijdens de energieproductie te gebruiken. VO2max is de belangrijkste enkelvoudige indicatie van het uithoudingsvermogen van een atleet.
Daarnaast heeft onderzoek uitgewezen dat VO2max ook een belangrijke maatstaaf is voor gezondheid en welzijn. Wanneer u de optimale hardloopefficiëntie bereikt, komt uw hardloopprestatie overeen met uw reële VO2max (ml/kg/min).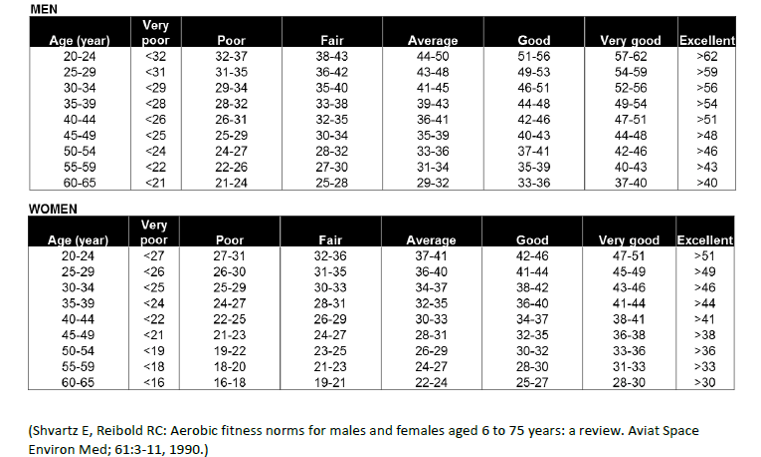 Hardloopefficiëntie
Het hardloopprestatieniveau houdt ook rekening met hardloopefficiëntie, een meting van uw hardlooptechniek. Deze meting houdt ook rekening met externe factoren zoals terrein, wegdek, weer en hardloopuitrusting.
Tijdens het hardlopen
Uw Suunto Ambit3 Peak biedt tijdens het hardlopen real-time feedback over uw hardloopprestatie.
De real-time feedback is beschikbaar als een grafiekweergave in de standaard Hardlopen sportmodus. U kunt deze grafiek toevoegen aan iedere sportmodus die van deze hardloopactiviteit gebruik maakt. Het verschil in real-time (zie hieronder) kan ook worden gebruikt als gegevensveld voor uw aangepaste hardloop-sportmodi.
De grafiek geeft tijdens het hardlopen vier datapunten weer, zoals hieronder wordt geïllustreerd.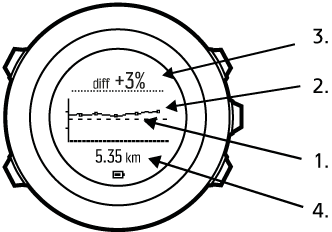 Basislijn: voor elke keer dat u hardloopt, wordt de basislijn van uw hardloopprestatie gekalibreerd om te compenseren voor externe variabelen zoals terrein en om te wachten tot uw hartslag gestabiliseerd is.
Real-time niveau: dit is het niveau van uw real-time hardloopprestatie voor de huidige loop en is per kilometer/mijl weergegeven.
Real-time verschil: dit geeft het real-time verschil tussen de basislijn van de gekalibreerde hardloopprestatie en uw real-time hardloopprestatieniveau van de huidige loop weer.
Afstand: totale afstand van de huidige opname. De grafiek toont de laatste zes kilometer (~4 mijl).
Interpreteren van de resultaten
Indien u net bent begonnen met hardlopen of het is alweer een tijdje geleden, dan kan het zijn dat uw hardloopprestatie in het begin vrij laag is. Naarmate uw fysieke fitness en hardlooptechniek verbeteren, ziet u een overeenkomende verbetering in de hardloopprestatie.
Over een periode van 4-20 weken kunt u een verbetering in het hardloopprestatieniveau tot 20% waarnemen. Indien het niveau van uw hardloopprestatie al goed is, is het moeilijk om dit nog te verbeteren. In deze situatie kunt u het hardloopprestatieniveau beter als indicator van uw uithoudingsvermogen gebruiken.
De real-time verschil indicator geeft u gedetailleerde, afzonderlijke informatie over dagelijkse prestaties en vermoeidheid tijdens het hardlopen. Duurhardlopers kunnen deze informatie gebruiken om kennis op te doen over hoeveel vermoeidheid handelbaar is tijdens lange intensieve lopen. Tijdens wedstrijden, helpt deze informatie u om het juiste tempo aan te houden.
Hieronder zijn drie voorbeelden van hardloopprestatieniveaus tijdens het hardlopen geïllustreerd. In de eerste grafiek (1) is de prestatie goed. In de tweede (2) is de prestatie slecht en kan dit wijzen op te veel training, ziekte, of gewoon een algemene slechte conditie. In de derde grafiek (3), ziet u een typische langeafstandloop waar de prestatieniveaus aan het einde van de loop geleidelijk aan naar beneden gaan. Dit is een teken van inzettende vermoeidheid.