Kompas
Suunto Ambit3 Peak heeft een digitaal kompas waarmee u zich ten opzichte van het magnetische noorden kunt oriënteren. Het kompas met kantelcompensatie geeft u nauwkeurige uitlezingen, ook als het niet horizontaal vlak wordt gehouden.
U kunt het kompas tonen/verbergen vanuit het startmenu onder Displays » Kompas. Schakelen met Next
De kompasweergave bevat de volgende informatie:
middelste rij: kompasrichting in graden
onderste rij: weergave wisselen naar de huidige richting in windstreken of leeg met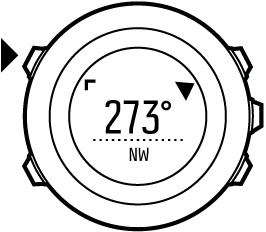 Het kompas gaat na één minuut automatisch over op de energiebesparende modus. Met Start Stop kunt u dit weer activeren.
Kompas kalibreren
Als u het kompas niet eerder heeft gebruikt, moet u dit eerst kalibreren. Houd het horloge onder een hoek en draai rond naar meerdere richtingen tot het een pieptoon geeft waarmee wordt aangegeven dat de kalibratie voltooid is.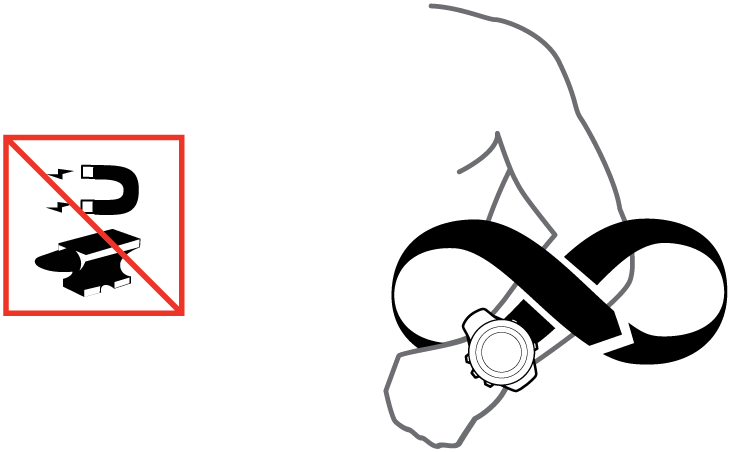 Als u het kompas al hebt gekalibreerd en het opnieuw wilt kalibreren, kunt u de kalibratieoptie in het optiemenu openen.
Als de kalibratie met succes is voltooid, wordt de tekst Kalibratie geslaagd weergegeven. Als de kalibratie niet is gelukt, wordt de tekst Kalibratie mislukt weergegeven. Om opnieuw te kalibreren, drukt u op Start Stop.
Om het kompas handmatig te kalibreren:
Houd
ingedrukt om het optiemenu te openen.
Ga naar

ALGEMEEN

met .
Blader naar

Kompas

met en selecteer met .
Druk op

Kalibratie

te selecteren.
om
Declinatie instellen
Om te zorgen dat u juiste kompasuitlezingen krijgt, moet u de juiste declinatiewaarde instellen.
Papieren kaarten wijzen naar het geografische noorden. Kompassen wijzen echter naar het magnetische noorden, een gebied boven de aarde waarheen de magnetische velden van de aardbol hun kracht uitoefenen. Aangezien het magnetische noorden en het echte noorden niet op dezelfde plaats liggen, dient u de declinatie in te stellen op het kompas. De declinatie is de hoek tussen het magnetische en het echte noorden.
De declinatiewaarde wordt weergegeven op de meeste kaarten. De locatie van het magnetische noorden verandert jaarlijks. De nauwkeurigste en meest recente declinatiewaarde kunt u op internet vinden (bijvoorbeeld op www.magnetic-declination.com).
Oriëntatiekaarten worden echter ten opzichte van het magnetische noorden getekend. Wanneer u dus oriëntatiekaarten gebruikt, moet u de declinatiecorrectie uitschakelen door de declinatiewaarde in te stellen op 0 graden.
Hoe de declinatiewaarde in te stellen:
Houd
ingedrukt om het optiemenu te openen.
Druk op

Algemeen

te openen.
om
Blader naar

Kompas

met en selecteer met .
Blader naar

Declinatie

met en selecteer met .
Schakel de declinatie uit door

–

te selecteren, of selecteer

W

(west) of

O

(oost).
Stel de declinatiewaarde in met
of .
Druk op
om de instelling te accepteren.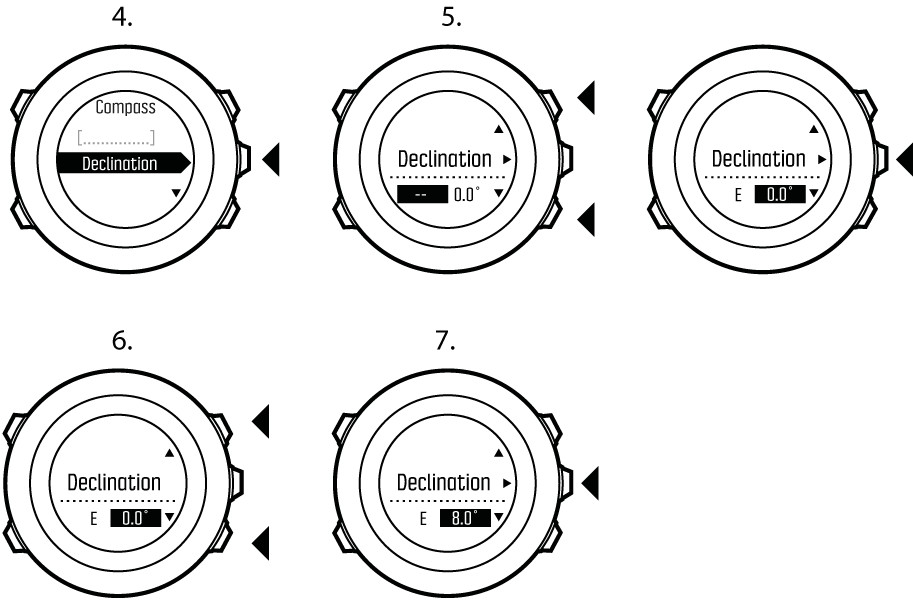 TIP:
U kunt ook de kompasinstellingen invoeren door View ingedrukt te houden in de Kompas modus.
Instellen van de richtingvergrendeling
U kunt de richting (in relatie tot het noorden) vergrendelen waarin uw doelbestemming ligt met de richtingvergrendeling.
Hoe een richting te vergrendelen:
Houd het horloge naar voren gericht en draai in de richting van uw bestemming met het kompas geactiveerd.
Druk op
om de huidige weergegeven waarde in graden te vergrendelen die op uw horloge als richting wordt getoond.
Een lege driehoek geeft de vergrendelde richting aan in relatie tot indicator voor het noorden (dichte driehoek).
Druk op
om de vergrendeling te verwijderen.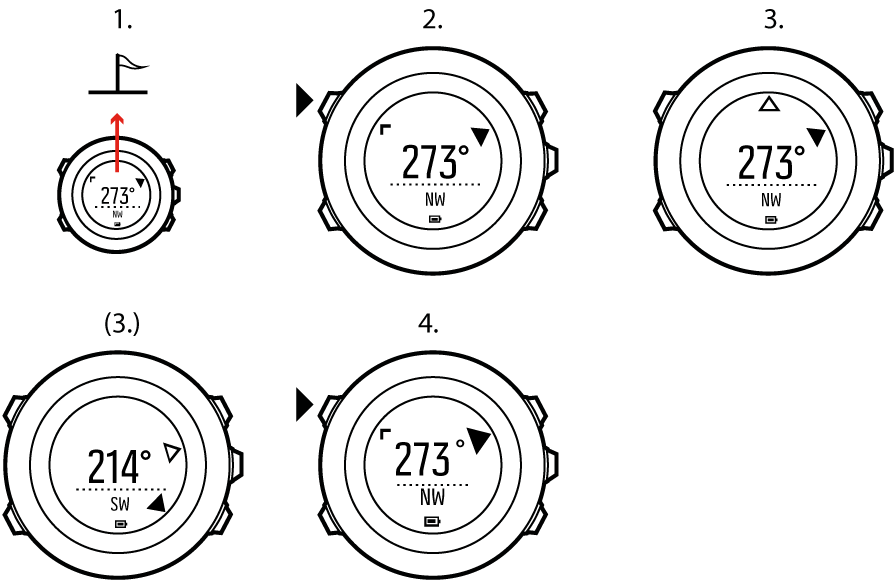 OPMERKING:
Als u het kompas tijdens de training gebruikt, kan met de Back Lap knop alleen de richting worden vergrendeld of vrijgegeven. Verlaat de kompasweergave om een ronde te gaan met Back Lap.