Logboek
In het logboek worden de logs van uw vastgelegde activiteiten opgeslagen. Het maximale aantal logs en de maximale duur van een enkel log is afhankelijk van de hoeveel informatie die voor elke activiteit wordt opgenomen. Nauwkeurigheid van GPS (zie GPS-nauwkeurigheid en energiebesparing) en het gebruik van de interval-timer (zie Intervaltimer), bijvoorbeeld, hebben een directe invloed op het aantal en de duur van de logs die kunnen worden opgeslagen.
U kunt het logoverzicht van uw activiteit zien direct nadat u het vastleggen hebt gestopt of via het logbook onder het startmenu.
De informatie in de samenvatting is dynamisch, d.w.z. het verandert afhankelijk van verschillende factoren zoals sportmodus en of u een hartslagband of GPS gebruikt heeft. Alle logs bevatten standaard tenminste de volgende informatie:
naam sportmodus
tijd
datum
duur
rondes
Indien het log is voorzien van GPS-gegevens bevat de logboekinvoer een weergave van de volledige routetrack en het klimprofiel van de track.
TIP:
U kunt nog veel meer details van uw opgenomen activiteiten zien in Movescount.com.
Om de samenvatting van het log te zien nadat het vastleggen gestopt is:
ingedrukt houden om een training te stoppen en op te slaan Of u kunt op drukken om het vastleggen te pauzeren. Na het pauzeren kunt u stoppen door te drukken op of verdergaan met vastleggen door te drukken op . Nadat u de training hebt gepauzeerd en gestopt, slaat u het log op door op te drukken. Als u het het log niet wilt opslaan, drukt u op . Als u het log niet wilt opslaan, kunt u nog wel de samenvatting bekijken door op te drukken, maar het log wordt niet in het logboek opgeslagen om later te kunnen bekijken.
Druk op
om het logoverzicht te bekijken.

U kunt ook de overzichten van al uw opgeslagen trainingen in het logboek bekijken. In het logboek worden alle trainingen op datum en tijd opgeslagen.
Om het overzicht in het logboek te bekijken:
Drukt u op
om het startmenu te openen.
Bladert u naar

Logbook

met en opent u het met . Uw huidige hersteltijd wordt weergegeven.
Bladert u door de logs met
of en selecteert u een log met .
Bladert u met
door de overzichtsweergaven van het log.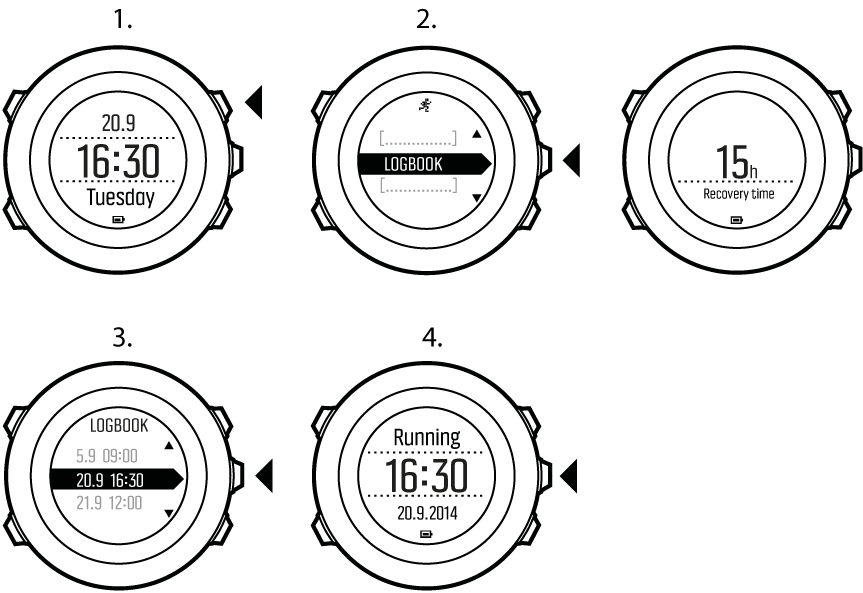 Als er meerdere rondes in het log zijn opgeslagen, kunt u specifieke informatie over de rondes bekijken door op View te drukken.