Logbook
Dive logs can be found under Logs. By default, they are listed by date and time, and each entry listing shows the max. depth and dive time of the log.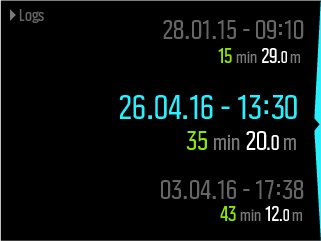 Dive log details and profile can be browsed by scrolling through the log with upper or lower button and selecting it with the middle button.
Each dive log contains data samples with fixed 10-second intervals. The dive profile includes a cursor for browsing the logged data, scrollable with upper and lower buttons. For more detailed log analyses, upload the dive(s) to Suunto DM5.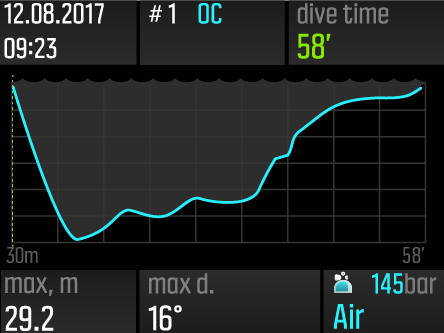 When the logbook memory gets full, the oldest dives are deleted to make space for new ones.
NOTE:
If you surface and then dive again within five minutes, Suunto EON Steel counts this as one dive.