Activiteiten volgen
Uw horloge houdt uw algemene activiteitsniveau gedurende de dag bij. Dit is een belangrijke factor, of u nu gewoon fit en gezond wilt zijn of traint voor een aankomende wedstrijd.
Het is goed om actief te zijn, maar wanneer u hard traint, hebt u rustdagen nodig met weinig activiteit.
De activiteitenteller wordt elke dag om middernacht automatisch gereset. Aan het einde van de week (zondag) geeft het horloge een samenvatting van uw activiteit met uw gemiddelde voor de week en uw dagelijkse totalen.
Veeg vanuit de horlogeweergave omhoog of druk op de onderste knop om uw totaal aantal stappen van de dag te bekijken.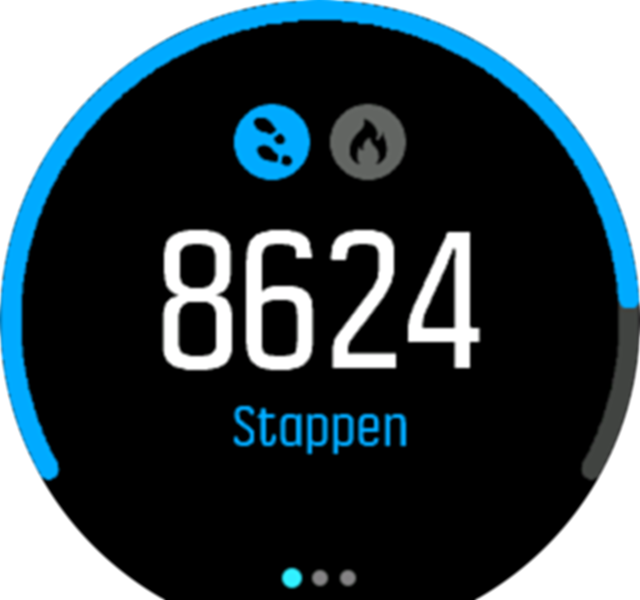 Uw horloge telt stappen met behulp van een versnellingsmeter. Het totaal aantal stappen wordt 24/7 bijgehouden, ook tijdens het vastleggen van trainingen en andere activiteiten. Tijdens een aantal specifieke sporten, zoals zwemmen en fietsen, worden echter geen stappen geteld.
Naast het aantal stappen kunt u ook het geschatte aantal verbruikte calorieën voor die dag bekijken door op het display te tikken.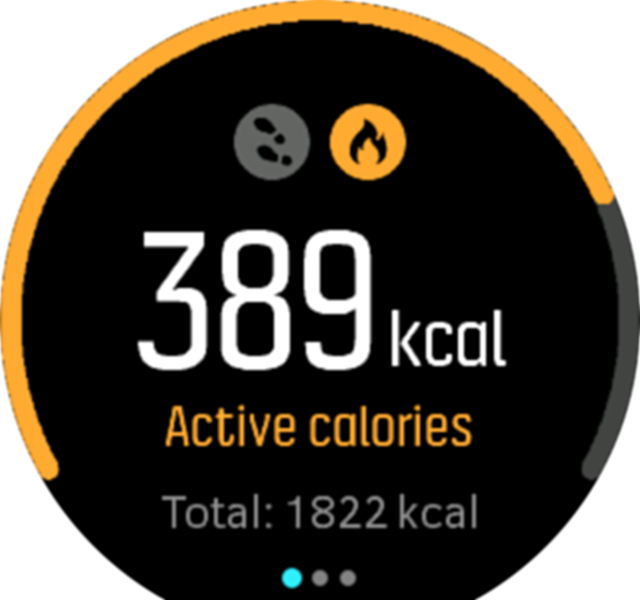 Het grote cijfer in het midden van het display is het geschatte aantal actieve calorieën dat u tijdens de dag reeds hebt verbrand. Daaronder ziet u het totaal aantal verbrande calorieën. Het totaal omvat zowel actieve calorieën als uw basaal metabolisme (Basal Metabolic Rate) (zie hieronder).
De ring in beide displays toont aan hoe dicht u bij uw dagelijkse activiteitendoelen bent: Deze doelen kunnen worden aangepast aan uw persoonlijke voorkeuren (zie hieronder).
U kunt ook uw stappen gedurende de afgelopen zeven dagen bekijken wanneer u naar links veegt. Veeg naar links of druk opnieuw op de middelste knop om calorieverbruik te zien.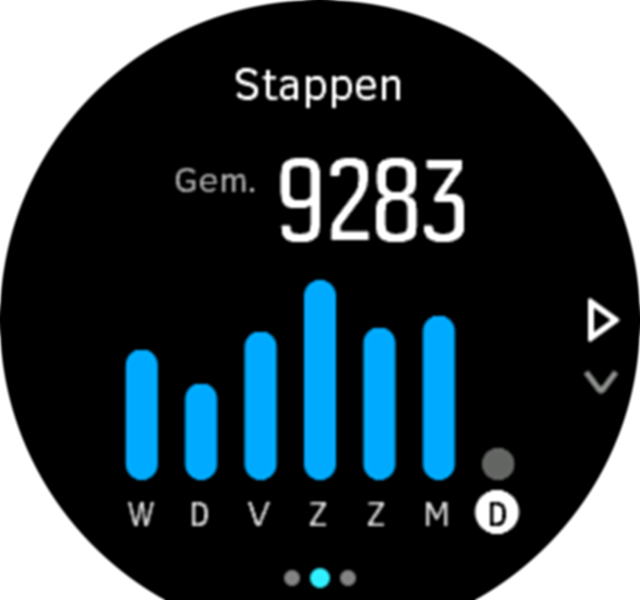 Veeg omhoog om uw activiteit over de afgelopen zeven dagen in cijfers te zien in plaats van een grafiek.
Activiteitsdoelen
U kunt uw dagelijkse doelen aanpassen voor zowel stappen als calorieën. Als u in de activiteitenweergave bent, tikt u op het scherm en houdt u uw vinger erop of houdt u de middelste knop ingedrukt om de instellingen voor de activiteitsdoelen te openen.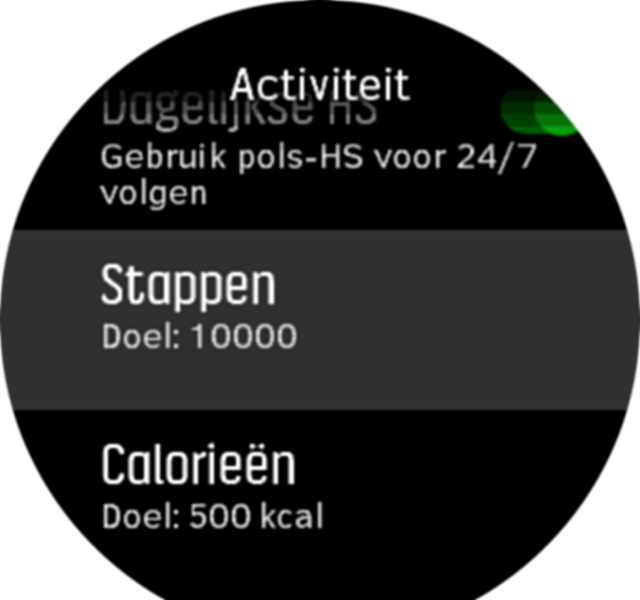 Bij het instellen van uw stappendoel bepaalt u het totale aantal stappen voor de dag.
Het totaal aantal calorieën dat u per dag verbrandt, is gebaseerd op twee factoren: uw Basal Metabolic Rate (BMR) en uw fysieke activiteit.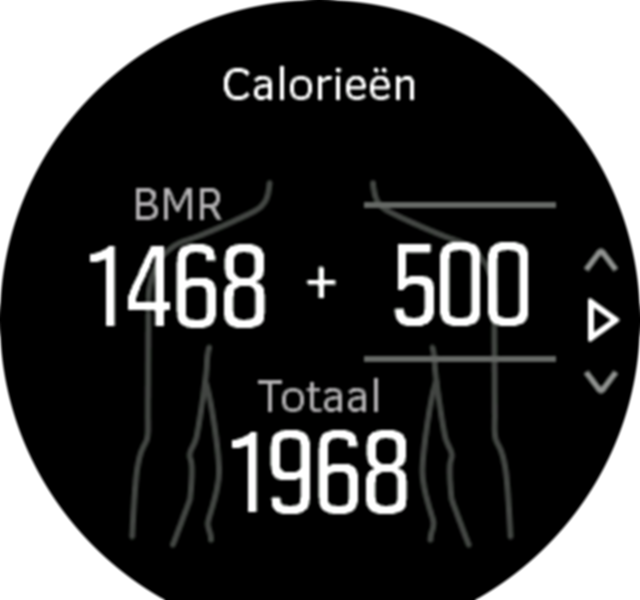 Uw BMR is het aantal calorieën dat uw lichaam bij rust verbrandt. Dit zijn de calorieën die uw lichaam nodig heeft om warm te blijven en basisfuncties, zoals met de ogen knipperen of de hartslag, uit te voeren. Dit aantal is gebaseerd op uw persoonlijk profiel, met inbegrip van factoren zoals leeftijd en geslacht.
Wanneer u een calorieëndoel instelt, bepaalt u hoeveel calorieën u wilt verbranden in aanvulling op uw BMR. Dit zijn uw zogenaamde actieve calorieën. De ring rond het activiteitendisplay vordert afhankelijk van hoeveel actieve calorieën u tijdens de dag verbrandt ten opzichte van uw doel.