Outdoorinzicht
Suunto Spartan Ultra meet voortdurend de absolute luchtdruk met behulp van de ingebouwde druksensor. Op basis van deze meting en van uw hoogtereferentiewaarde berekent het instrument de hoogte of luchtdruk.
LET OP:
Houd het gebied rond de gaten van de luchtdruksensor aan de linkerkant van uw horloge vrij van vuil en zand. Steek geen voorwerpen in de gaten. Dit kan de sensor beschadigen.
Veeg omhoog of druk op de onderste knop om de huidige hoogte en barometrische druk te bekijken.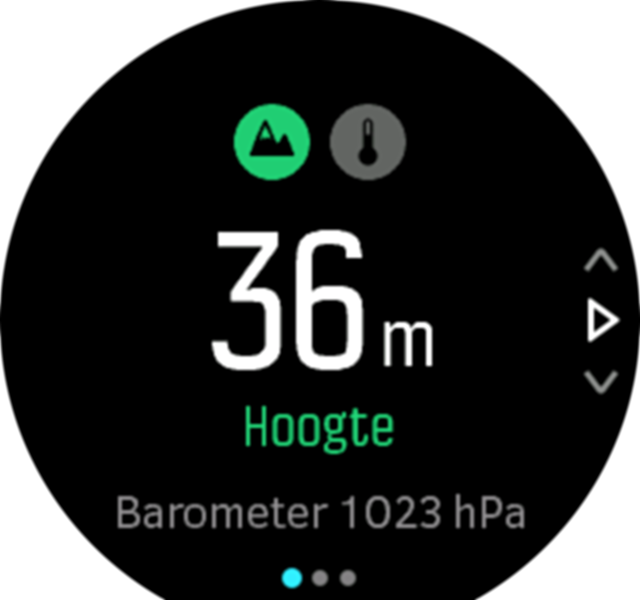 Tik om de huidige temperatuur te zien.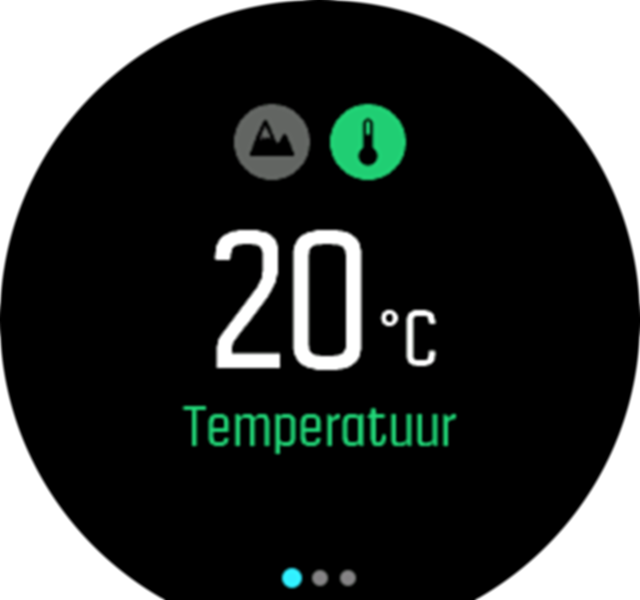 Veeg naar links of druk op de middelste knop om te schakelen tussen hoogtemeter en barometertrendgrafieken.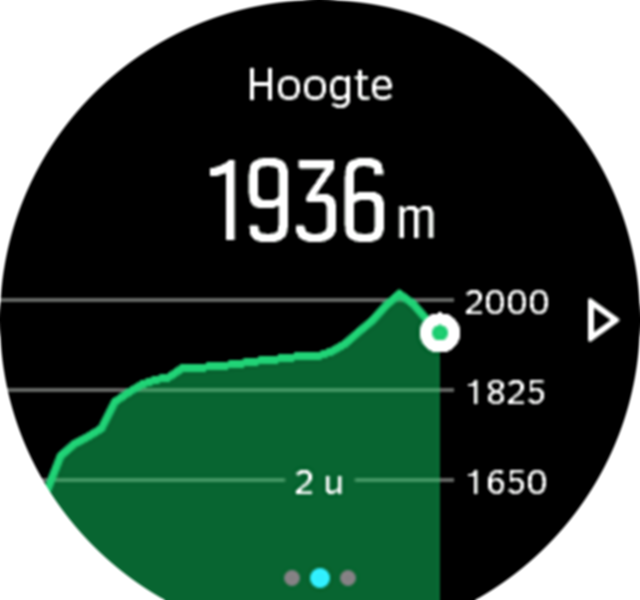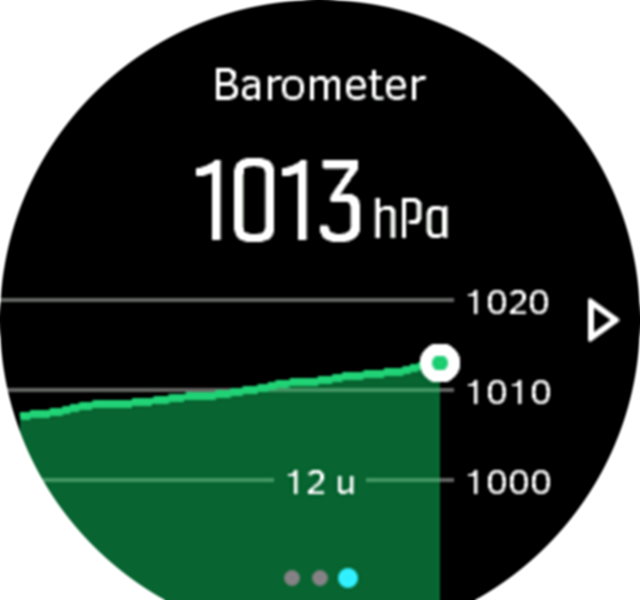 Zorg ervoor dat uw hoogtereferentiewaarde juist is ingesteld (zie Hoogtemeter). De hoogte van uw huidige locatie kan worden gelezen op de meeste topografische kaarten of grote online kaartdiensten zoals bijv. Google Maps.
Wijzigingen in plaatselijke weersomstandigheden beïnvloeden de hoogtemetingen. Als de plaatselijke weersomstandigheden vaak veranderen, moet u de hoogtereferentiewaarde regelmatig opnieuw instellen, bij voorkeur vóór de start van uw volgende trip.
TIP:
Terwijl u zich in het scherm met de hoogte en barometrische druk bevindt, houdt u de middelste knop ingedrukt voor snelle toegang tot de outdoorinstellingen waar u de referentiewaarde kunt aanpassen.
Automatisch alti-baroprofiel (hoogte-luchtdrukprofiel)
Wijzigingen in weer en in hoogte brengen allebei een wijziging in luchtdruk teweeg. Om dit aan te pakken, schakelt Suunto Spartan Ultra automatisch tussen het opvatten van veranderingen in de luchtdruk als wijzigingen in hoogte dan wel wijzigingen in het weer, op basis van uw bewegingen.
Als uw horloge verticale beweging detecteert, schakelt het over en meet het de hoogte. Als de hoogtegrafiek wordt weergegeven, wordt deze met een maximale vertraging van 10 seconden bijgewerkt.
Als u op een constante hoogte bent (minder dan 5 meter verticale beweging binnen 12 minuten), gaat uw horloge ervan uit dat luchtdrukveranderingen wijzigingen in het weer zijn en wordt de barometergrafiek dienovereenkomstig aangepast.
OPMERKING:
Sportmodi hebben hun eigen alti-baro-instelling. U kunt deze instelling wijzigen in Movescount. De opties zijn automatisch, alleen barometer of alleen hoogtemeter.