Configuratie
Beginnen met het gebruik van uw horloge:
Houd
ingedrukt om het apparaat uit de slaapstand te halen.
Druk op
of om naar de gewenste taal te scrollen en druk op om te selecteren.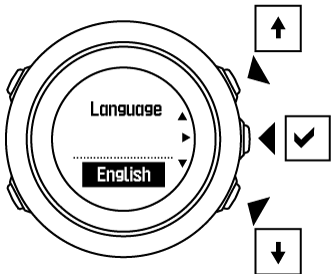 Volg de wizard Opstarten om begininstellingen te voltooien. Stel waarden in met
of en druk op om te accepteren en naar de volgende stap te gaan.
Nadat u de installatiewizard heeft voltooid, laadt u het horloge met de bijgeleverde USB-kabel op totdat de batterij helemaal vol is.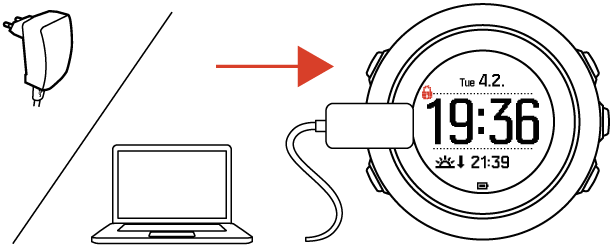 OPMERKING:
Als een knipperend batterijsymbool wordt weergegeven, moet Suunto Traverse worden opgeladen voorafgaand aan starten.
OPMERKING:
Wanneer de batterij leeg is, en u het product opnieuw oplaadt, drukt u op START en houdt u dit ingedrukt om het product te starten