Tijd
De tijdweergave op uw Suunto Traverse geeft u de volgende informatie:
bovenste rij: datum
middelste rij: tijd
onderste rij: wisselen met
om aanvullende informatie te bekijken zoals zonsopgang en zonsondergang, hoogte en batterijleven.
In de menuopties onder ALGEMEEN >> Tijd/datum kunt u het volgende instellen:
Dual time
Alarm
Tijd en datum
Alarmklok
U kunt uw Suunto Traverse als een wekker / alarmklok gebruiken. Het alarm kan worden ingesteld/aan/uitgeschakeld in de menuopties onder ALGEMEEN >>Tijd/datum >> Alarm.
Als de wekker is ingeschakeld, wordt het alarmsymbool op de meeste schermen weergegeven.
Als het alarm afgaat, kunt u:
Sluimeren door op
te drukken. Het alarm stopt en gaat na elke 5 minuten opnieuw af totdat u het uit zet. U kunt per heel uur 12 keer sluimeren.
Stop door op
te drukken. Het alarm stopt en gaat de volgende dag op dezelfde tijd opnieuw af, tenzij u het uitschakelt in de menuopties.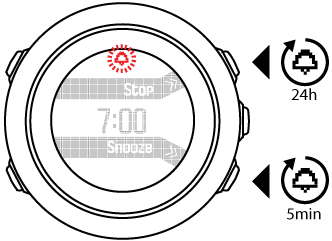 OPMERKING:
Tijdens het sluimeren, knippert het alarmpictogram in de tijdweergave.
Tijdsynchronisatie
De tijd op uw Suunto Traverse kan worden geüpdatet via uw mobiele telefoon, computer (Moveslink) of GPS-tijd. Als u het horloge heeft gepaard met de Suunto Movescount App, dan worden de tijd en tijdzone automatisch gesynchroniseerd met uw mobiele telefoon.
Als u het horloge via de USB-kabel verbinding met uw computer maakt, zal Moveslink standaard de tijd en datum van uw horloge updaten volgens de klok van uw computer. Deze functie kan worden uitgeschakeld via de instellingen van Moveslink.

GPS-tijd
GPS-tijd corrigeert het verschil tussen de tijd op uw Suunto Traverse en de GPS-tijd. Met GPS-tijd wordt telkens als een GPS-signaal is vastgesteld (bijvoorbeeld als een activiteit wordt opgenomen of een POI wordt opgeslagen) de tijd gecontroleerd en gecorrigeerd.
GPS-tijd wordt standaard geactiveerd. U kunt dit uitschakelen in de menu-opties, onder ALGEMEEN » Tijd/datum » Tijd & datum.
Zomer/wintertijd
Suunto Traverse ondersteunt zomer/wintertijd (Daylight Saving Time) (DST) aanpassingen als de GPS-tijd is ingeschakeld
U kunt de zomer/wintertijd aanpassen in de menuopties, onder ALGEMEEN » Tijd/datum >>Tijd & datum.
Er zijn drie instellingen beschikbaar:
Automatisch

- automatische DST-aanpassing op basis van de GPS-locatie

Wintertijd

- altijd op wintertijd (geen DST)

Zomertijd

– altijd op zomertijd