Servicemenu
Om het servicemenu te openen, houdt u BACK LAP en START gelijktijdig ingedrukt totdat het servicemenu wordt geopend.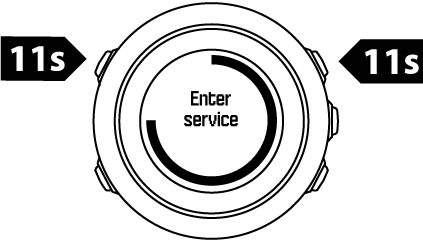 Het servicemenu bevat de volgende items:
Info

:

Air pressure

: toont de huidige absolute luchtdruk en temperatuur.

Versie

: toont de huidige software en hardware versie.

BLE

: toont de huidige Bluetooth Smart versie.

Display

:

LCD test

: hiermee kunt u testen of het LCD-scherm juist werkt.

ACTIE

:

Uitschakelen

: laat het horloge in een diepe slaapstand zetten.

Gps opnieuw instellen

: hiermee reset u de GPS.
OPMERKING:
Uitschakelen is een status met laag energieverbruik. Volg de normale opstartprocedure om het apparaat aan te zetten. Alle instellingen behalve tijd en datum worden onderhouden. Bevestig deze eenvoudig via de opstartwizard.
OPMERKING:
Het horloge schakelt over op de energiebesparende modus als het gedurende 10 minuten niet wordt bewogen. Het wordt opnieuw actief als het wordt bewogen.
OPMERKING:
De inhoud van het servicemenu kan tijdens updates zonder aankondiging worden gewijzigd.
GPS wordt gereset
Als de GPS geen signaal kan vinden, kunt u de GPS-gegevens resetten in het servicemenu.
Om de GPS te resetten, gaat u als volgt te werk:
Blader naar Actie

ACTIE

in het servicemenu met en open met .
Druk op

Gps opnieuw instellen

te bladeren en open deze met .
om naar
Druk op
om de GPS reset te bevestigen of druk op om te annuleren.
OPMERKING:
Het resetten van de GPS zal alle GPS-gegevens resetten, evenals de kalibratiewaarden van het kompas. Opgeslagen logs worden niet verwijderd.