Start an exercise
Before you begin
Start an exercise
Waiting to start
Avoid accidental touch and button actions during exercise
Before you begin
Start an exercise
Press the top right button to open Suunto Wear app.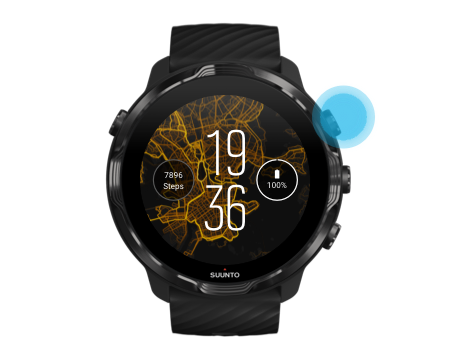 Tap the activity below the start button to open a list of sport modes.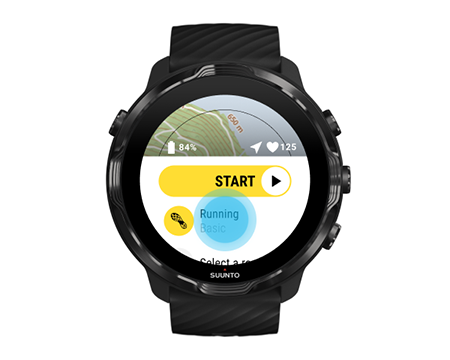 Browse the list and select a sport mode you wish to use. Learn more about sport modes.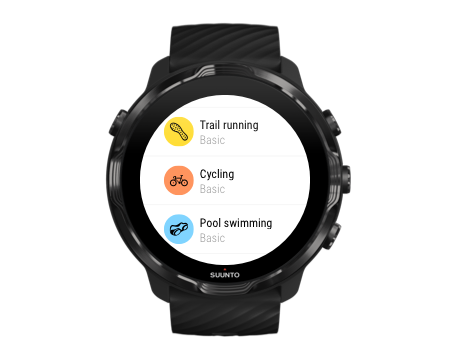 Optional: Change the Location accuracy and the display settings for the chosen sport mode. Maximize battery life during exercise
When you're ready to go, press the middle button or swipe left on the start button to start your exercise.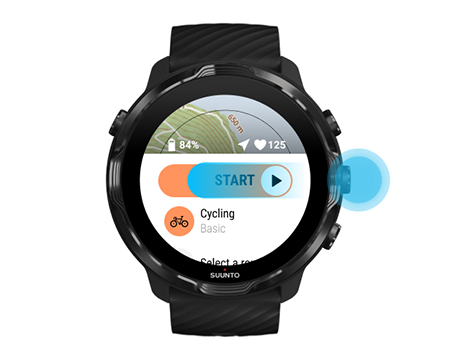 To get the most accurate HR and GPS data from the start, you can wait until the arrow icon (location) and heart icon (heart rate) above the start button turn white before starting your exercise.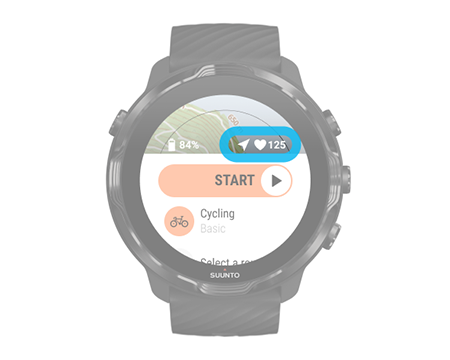 If the heart rate icon stays gray, try moving your watch on your wrist about two fingers up from the wrist bone. If the arrow icon stays gray, move outside to an open area and wait for a better GPS signal.
Waiting to start
If you stay in the start view for a while, for example when you wait for your watch to acquire its GPS location or get ready to start your race, you might see that the display switches to a low-power mode. Don't worry, you can still start your exercise recording immediately by pressing the middle button.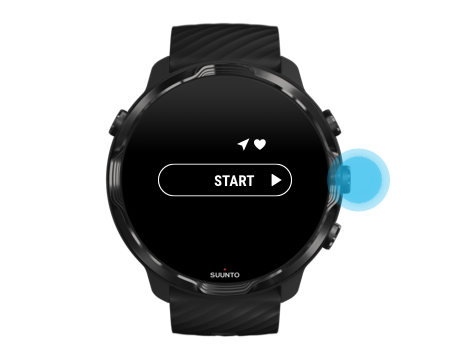 Avoid accidental touch and button actions during exercise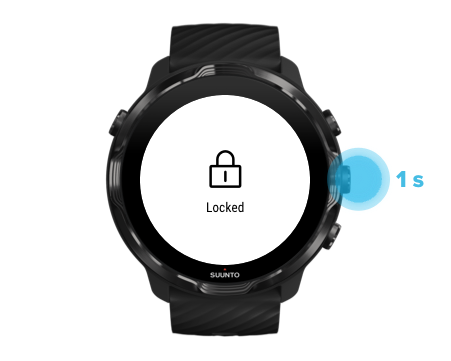 Wet conditions or, for instance, the gear you are wearing can sometimes accidentally interrupt your exercise recording. To avoid accidental taps and button presses during exercise, you can lock the touch screen and button actions.
NOTE:
Unwanted actions such as rain drops or a wet sleeve can also drain your battery faster than expected by waking up the display repeatedly without you noticing.
Lock touch screen and button actions
To lock the screen and button actions, keep the middle button pressed.
To unlock, keep the middle button pressed again.
When the screen and buttons actions are locked, you can:
change the exercise view with middle button
return to the watch face with Power button
zoom the map with the top right and bottom right buttons
When the screen and buttons actions are locked, you can't:
pause or end the exercise
create manual laps
access exercise options or map options
swipe the screen or pan the map
tap to wake up screen