Herstel
Hersteltijd is een schatting in uren hoelang uw lichaam nodig heeft om te herstellen na een training. De tijd is gebaseerd op de duur en intensiteit van uw vastgelegde activeiten en ook op uw algehele vermoeidheid.
De hersteltijd wordt opgebouwd op basis van alle soorten trainingen. Met andere woorden, u bouwt hersteltijd op tijdens lange trainingen met lage intensiteit en die met hoge intensiteit.
De tijd is cumulatief tijdens trainingssessies, dus als u weer gaat trainen voordat de tijd om is, zal de nieuwe geaccumuleerde tijd worden toegevoegd aan het restant van uw vorige training.
Om uw hersteltijd te zien als u zich in de horlogeweergave bevindt, veegt u omhoog of drukt u op de rechteronderknop totdat u het hersteldisplay te zien krijgt. Tik om tussen training en herstel te schakelen .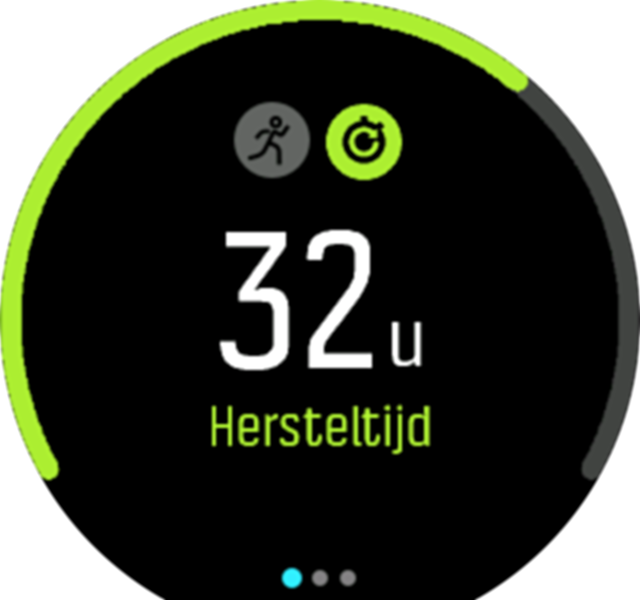 Omdat de hersteltijd slechts een schatting is, tellen de geaccumuleerde uren langzaam af ongeacht uw fitheidsniveau of andere individuele factoren. Als u erg fit bent, herstelt u mogelijk sneller dan de schatting. Maar als u bijvoorbeeld de griep heeft, kan uw herstel langzamer verlopen dan de schatting.