Tijd en datum
U stelt de tijd en datum in tijdens de eerste opstartprocedure van uw horloge. Hierna gebruikt uw horloge GPS-tijd om een eventueel verschil te corrigeren.
U kunt de tijd en datum handmatig aanpassen in instellingen onder ALGEMEEN » Tijd/datum waar u tevens de tijd- en datumindelingen kunt veranderen.
Naast de tijd kunt u ook dubbele tijd gebruiken om de tijd op een andere locatie, bijvoorbeeld wanneer u reist, te zien. Tik onder Algemeen » Tijd/datum op Dubbele tijd om de tijdzone in te stellen door een locatie te selecteren.
Alarmklok
Uw horloge heeft een alarm dat één keer kan afgaan of op bepaalde dagen herhaald kan worden. Activeer het alarm in de instellingen onder Alarmen » Alarmklok.
Om het alarm in te stellen:
Selecteer eerst hoe vaak u het alarm wilt horen. De opties zijn:

Eenmalig

alarm gaat één keer af in de volgende 24 uur op het vastgelegde tijdstip;

Weekdagen

alarm gaat op hetzelfde tijdstip af van maandag tot vrijdag;

Dagelijks

alarm gaat elke dag van de week af op hetzelfde tijdstip.

Stel het uur en de minuten in en ga vervolgens uit de instellingen.
Als het alarm afgaat, kunt u afwijzen om het alarm te beëindigen, of kunt u de optie sluimeren selecteren. De sluimertijd is 10 minuten en kan tot 10 keer worden herhaald.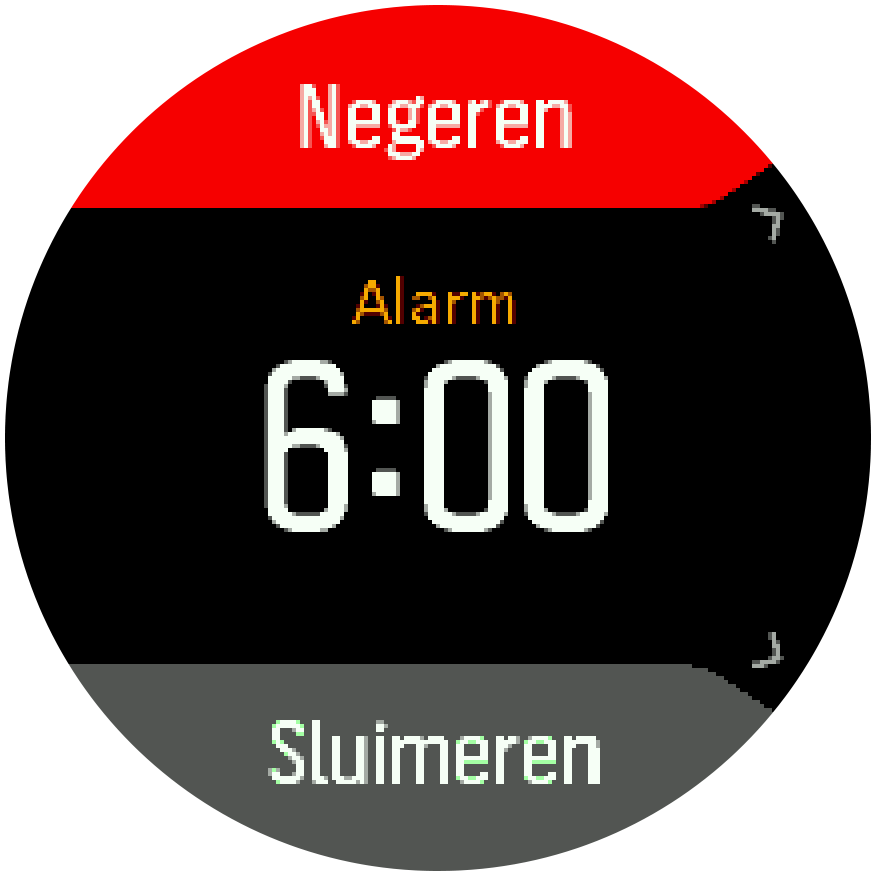 Als u het alarm laat afgaan, zal dit na 30 seconden automatisch in sluimerstand gaan.