Oppervlaktetijd en vliegverbod
Na afloop van een duik zal de Suunto EON Core de oppervlaktetijd sinds de vorige duik weergeven en een afteltimer voor het aanbevolen vliegverbod. Tijdens het vliegverbod moet het vliegen of reizen naar hoger gelegen omgevingen worden vermeden.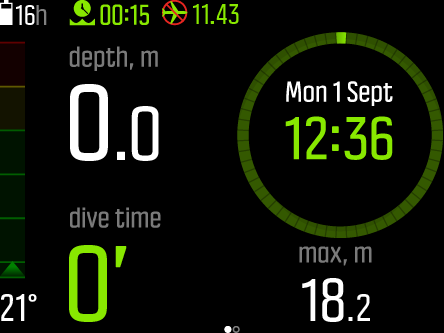 De tijd voor het vliegverbod is altijd ten minste 12 uur en is gelijk aan de desaturatietijd als deze meer dan 12 uur is. Voor desaturatietijden van korter dan 70 minuten wordt geen vliegverbod getoond.
Als decompressie tijdens een duik wordt overgeslagen zodat de Suunto EON Core in permanente foutmodus gaat (zie Algorithm_lock), zal het vliegverbod 48 uur zijn. Hetzelfde geldt als de duik in de metermodus (bodemtimer) wordt uitgevoerd. Ook dan is het vliegverbod 48 uur.
WAARSCHUWING:
GA NIET VLIEGEN ZOLANG DE DUIKCOMPUTER EEN VLIEGVERBOD AANGEEFT. SCHAKEL ALTIJD DE DUIKCOMPUTER IN OM DE RESTERENDE DUUR VAN HET VLIEGVERBOD TE CONTROLEREN VOORDAT U GAAT VLIEGEN! Het risico op DCS kan sterk toenemen wanneer u tijdens het vliegverbod gaat vliegen of naar
een grotere hoogte reist. Lees de aanbevelingen van Divers Alert Network (DAN). Geen enkele regel voor vliegen na het duiken is een garantie voor het volledig voorkomen van decompressieziekte!