Kompas
Suunto Spartan Sport Wrist HR Baro heeft een digitaal kompas waarmee u zich ten opzichte van het magnetische noorden kunt oriënteren. Het kompas met kantelcompensatie geeft u nauwkeurige uitlezingen, ook als het niet horizontaal vlak wordt gehouden.
U kunt vanuit het startscherm toegang krijgen tot het kompas onder Navigatie » Kompas.
De kompasweergave bevat de volgende informatie:
Pijl die wijst naar het magnetische noorden
Richting in windstreken
Richting in graden
Tijdstip (plaatselijke tijd) of batterijniveau; tik op het scherm om de weergave te veranderen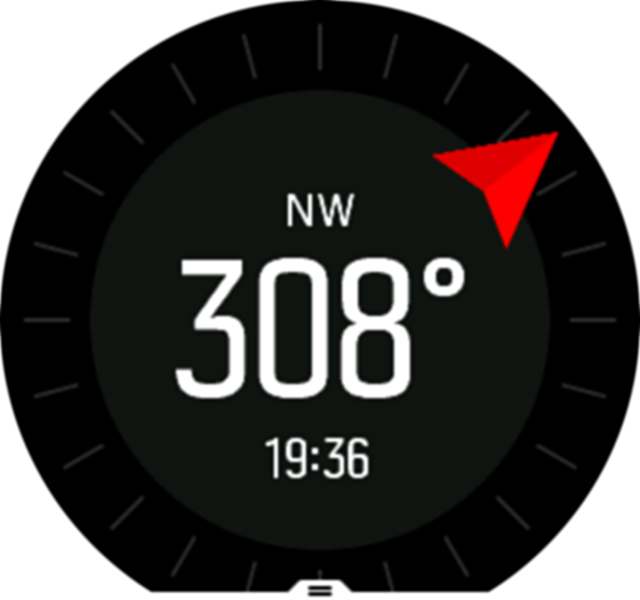 Veeg om het kompas af te sluiten naar rechts of houd de middelste knop ingedrukt.
In de kompasweergave kunt u vanaf de onderkant van het scherm naar boven vegen of op de onderste knop drukken om een lijst met sneltoetsen te openen. De sneltoetsen geven u snelle toegang tot navigatiehandelingen zoals het controleren van de coördinaten van uw huidige locatie of het selecteren van een andere route om te navigeren.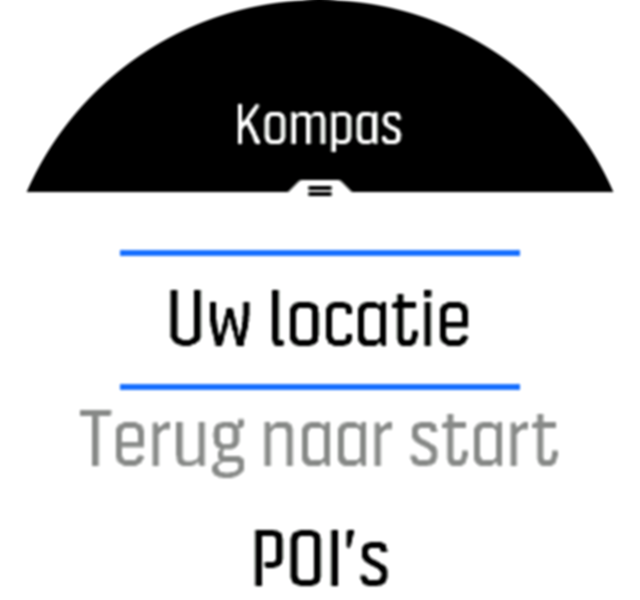 Veeg omlaag of druk op de bovenste knop om de lijst met sneltoetsen af te sluiten.
Kompas kalibreren
Als het kompas niet gekalibreerd is, wordt u gevraagd het kompas te kalibreren wanneer u naar de weergave kompas gaat.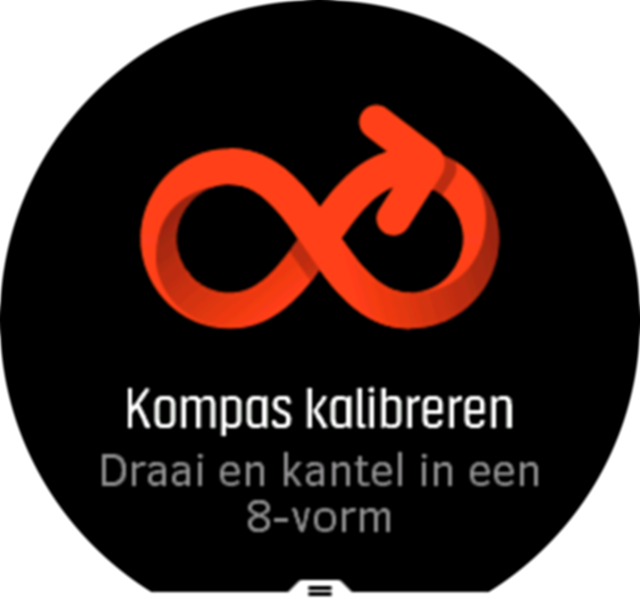 Als u het kompas opnieuw wilt kalibreren, kunt u de kalibratie opnieuw beginnen in de instellingen onder Navigatie » Kompas kalibreren.
Declinatie instellen
Om te zorgen dat u juiste kompasuitlezingen krijgt, moet u de juiste declinatiewaarde instellen.
Papieren kaarten wijzen naar het geografische noorden. Kompassen wijzen echter naar het magnetische noorden, een gebied boven de aarde waarnaar de magnetische velden van de aardbol hun kracht uitoefenen. Aangezien het magnetische noorden en het echte noorden niet op dezelfde plaats liggen, dient u de declinatie in te stellen op het kompas. De declinatie is de hoek tussen het magnetische noorden en het echte noorden.
De declinatiewaarde wordt weergegeven op de meeste kaarten. De locatie van het magnetische noorden verandert jaarlijks. De nauwkeurigste en meest recente declinatiewaarde vindt u op website zoals www.magnetic-declination.com.
Oriëntatiekaarten worden echter ten opzichte van het magnetische noorden getekend. Wanneer u oriëntatiekaarten gebruikt, moet u de declinatiecorrectie uitschakelen door de declinatiewaarde in te stellen op 0 graden.
U kunt de declinatiewaarde instellen in de instellingen onder Navigatie » Declinatie.