Gasmengsels
Als de Nitrox- of Trimix-duikmodi worden geselecteerd, dient u het gas / de gassen te definiëren, anders doet het decompressie-algoritme zijn 'werk' niet. U kunt de gassen definiëren in Gas(es) (Gas(sen)). In de Nitrox modus, zal het gas alleen zuurstof (O2%) hebben. De Trimix modus heeft Helium (He%) beschikbaar en er is ook een optie om meerdere gassen te kiezen.
OPMERKING:
Nadat u het gas hebt geanalyseerd, moet u het resultaat naar beneden afronden bij het invoeren in de EON Steel. Bijvoorbeeld: als het geanalyseerde gas 31,8% zuurstof is, definieer het gas dan als 31%. Dit maakt de decompressieberekeningen veiliger. Zuurstofberekeningen (pO2, OTU, CNS%) worden ook veiliger gehouden omdat het gebruikte zuurstofpercentage voor deze gassen O2% + 1.
WAARSCHUWING:
DE DUIKCOMPUTER ACCEPTEERT GEEN DECIMALE WAARDEN VOOR DE ZUURSTOFCONCENTRATIE. ROND DECIMALE WAARDEN NIET NAAR BOVEN AF! Door het afronden worden de stikstofpercentages te laag gewaardeerd wat invloed heeft op de berekeningen voor decompressie.
Het is van belang dat u begrijpt hoe het menu Gas(es) (Gas(sen)) werkt in de Trimix-modus, waar u gebruik kunt maken van meerdere gassen. In het onderstaande voorbeeld heeft het menu drie gassen en is tx18/45 gekozen als het actieve gas. Ook al is maar één gas actief, dan zal het decompressie algoritme toch de opstijgtijd (tijdens de duik) berekenen met alle drie de beschikbare gassen.
Een ander actief gas selecteren:
Druk op de middelste knop terwijl u in het menu

Gas(es)

(Gas(sen)) bent, om de opties voor gas te zien.
Blader met de bovenste of onderste knoppen om Selecteren te kiezen.
Druk nogmaals op de middelste knop om te bevestigen.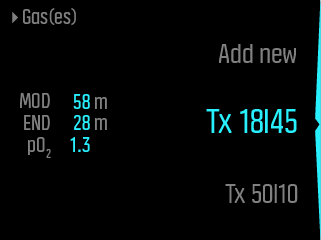 Als u maar met één gas duikt, verzeker u dan ervan dat u alleen dat ene gas geselecteerd hebt in het menu Gas(es) (Gas(sen)). Als dat niet het geval is, zal de Suunto EON Steel verwachten dat u alle gassen in de lijst zult gebruiken en wordt aan u gemeld dat u tijdens de duik van gas moet wisselen.
OPMERKING:
Wanneer u CCR-modus selecteert, worden gasmengsels verdeeld in gassen voor open circuit en gassen voor gesloten circuit. Zie Duiken met rebreather.