Gasverbruik
Gasverbruik verwijst naar uw werkelijke gasverbruik tijdens een duik. Met andere woorden, het is de hoeveelheid gas die een duiker in één minuut zou gebruiken aan het oppervlak. Dit is ook bekend als uw luchtverbruik boven water of SAC-tempo.
Gasverbruik wordt gemeten in liters per minuut (kubieke meter per minuut). Dit is een optioneel veld en moet toegevoegd worden aan uw aangepaste duikmodusweergave in DM5. In de klassieke weergave hieronder, staat het gasverbruik in de rechteronderhoek.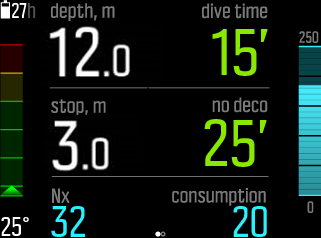 Gasverbruik inschakelen
Voeg het gasverbruik toe aan uw aangepaste duikmodus in DM5. Zie Duikmodi aanpassen met DM5.
Installeren en koppelen van een Suunto Tank-POD. Zie Flesdruk.
Nadat u het juiste gas hebt geselecteerd en weer in de hoofd tijdweergave bent, houdt u de middelste knop ingedrukt om naar het menu te gaan.
Blader net de onderste knop naar

Gases

(Gassen) en selecteer met de middelste knop.
Blader naar het gas dat u zojuist van uw Tank-POD hebt geselecteerd en selecteer met de middelste knop.
Blader naar

Tank size

(Flesgrootte) en selecteer dit met de middelste knop.
Controleer de flesgrootte en wijzig, indien nodig, de grootte met de bovenste of onderste knop. Bevestig de wijziging met de middelste knop.
Houd de middelste knop ingedrukt om het menu te verlaten.
OPMERKING:
Voor nauwkeurig gasverbruik, moet u de flesgrootte definiëren. Als u de flesgrootte niet definieert, leidt dit tot onjuiste gasverbruikaflezingen.