Logboek
U vindt de gelogde duiken onder Logs (Logboeken). Standaard worden deze weergegeven op datum en tijd, en elke registratie laat de maximale diepte en duiktijd van het logboek zien.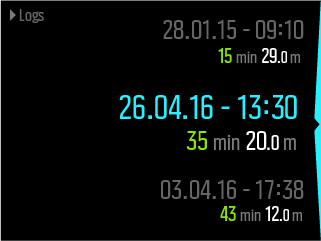 De details in het duiklogboek en het profiel kunnen worden bekeken door met de onderste of bovenste knop te bladeren en met de middelste te selecteren.
Elk duiklogboek bevat gegevens die elke 10 seconden worden vastgelegd. Het duikprofiel wordt met een aanwijzer weergegeven zodat u door de vastgelegde gegevens kunt bladeren met de bovenste of onderste knop. Voor een meer gedetailleerde loganalyse kunt u de duik(en) uploaden naar Suunto DM5 (zie Suunto DM5 en Movescount).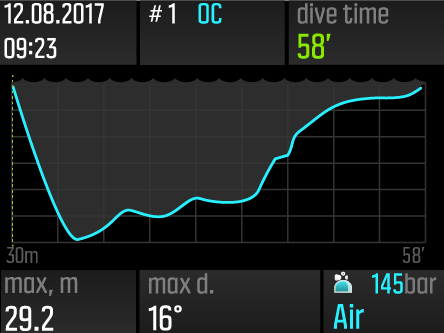 Als het geheugen van het logboek vol raakt, worden de oudste duiken gewist om plaats te maken voor de nieuwere.
OPMERKING:
Als u boven water bent en daarna - binnen vijf minuten - weer duikt, zal de Suunto EON Steel dit als één duik zien.